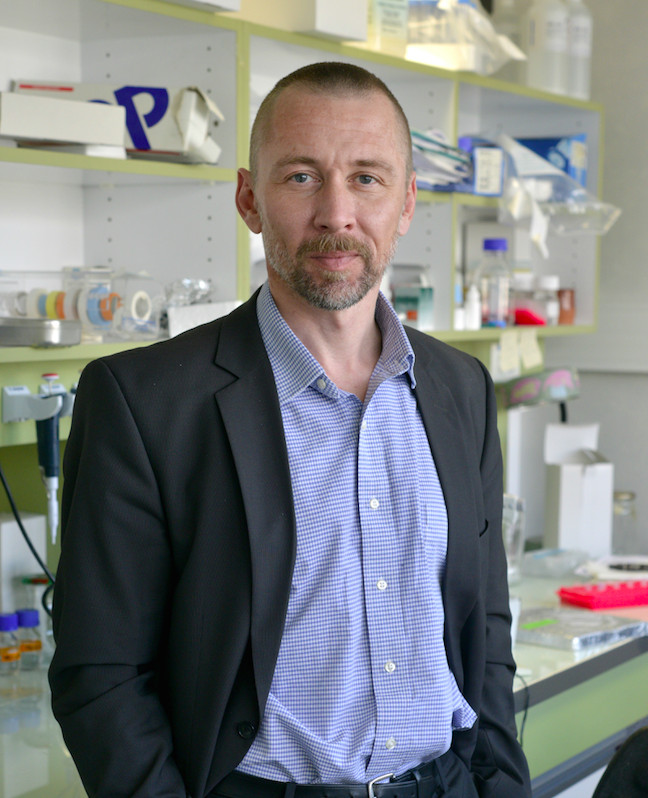 Dr. Andrei Popov, CEO at Ecrins Therapeutics
Photo credit: Ecrins Therapeutics
Laureate of the 2002 INSERM program "Avenir", Dr. Andrei Popov launched a research project with a focus on the mechanisms of cell division and bioactive small molecules, both fields relevant to oncology (INSERM and Joseph Fourier University in Grenoble). The discovery of several drug candidates by Drs. Aurélie Juhem and Andrei Popov allowed them, with the support of Prof. François Berger, to create in 2010 Ecrins Therapeutics. The project was awarded in 2009 the grant "Proof-of-concept" by the Lyon Auvergne Rhône-Alpes Cancéropôle and also won the National Innovation Contest for the Creation of Innovative Companies "Emergence" (2009) and "Création-Développement" (2010). The company aims to develop its drug candidates to clinical Proof-of- Concept. The lead drug candidate ET-D5 is a First-in-Class small molecule with an original anti-vascular and anti-proliferative mechanism of action.
– How your background leads you to start your own business?
As you may know, three academic researchers launched Ecrins Therapeutics: myself, Dr. A. Juhem and Prof. F. Berger.
I am a physician by education. After graduating I worked for 20 years in the biomedical research centered on the problems of cell division, area directly linked to oncology.When I worked in academia, on more than one occasion I witnessed difficulties in transferring discoveries and new technologies from public institutions to industry. In 2004, as group leader at INSERM, I started a research program aiming at the discovery of new bioactive molecules. Therefore, when in the course of my research program we found an exciting molecule with potent anti-cancer properties, the choice was quickly made – I followed the old motto "if you want something to be done – do it yourself".
One more thing – without too much boasting, I think that academic researchers make good entrepreneurs – they like learning, they are creative, project-oriented, they are good at multitasking, they are used to "raising" money and spending this money carefully.
– Could you tell us more about Ecrins Therapeutics activities? 
Our main activity is centered on the development of an anticancer drug candidate. In a nutshell, we raise capital from private investors in order finance the R&D program leading to the clinical proof of concept of a novel drug. Most likely, we will develop the drug ourselves until the end of Phase II.
– Does your drug, ET-D5, solve treatment issues?
When talking about oncology drugs, two issues come to mind: efficacy and toxicity. The toxicity of the anticancer drugs is often the very basis of their efficacy. To be effective against cancer cells (or against the tumor microenvironment!) the molecule has to be first of all BIOACTIVE. Who says bioactive, says (potentially) toxic, all depends on the dose.
Therefore, drug developers face two major problems: how to make more efficient drugs (without increased toxicity) and how to make them less toxic (but still effective!). In the best of worlds, we would love to offer patients more efficacious and less toxic therapies.
So far, in the animal models of human cancers, we have demonstrated exciting efficacy results, without major toxic problems.  However, we must be cautious in evaluating these results, as only a clinical trial in HUMANS will allow us to appreciate the potential side effects.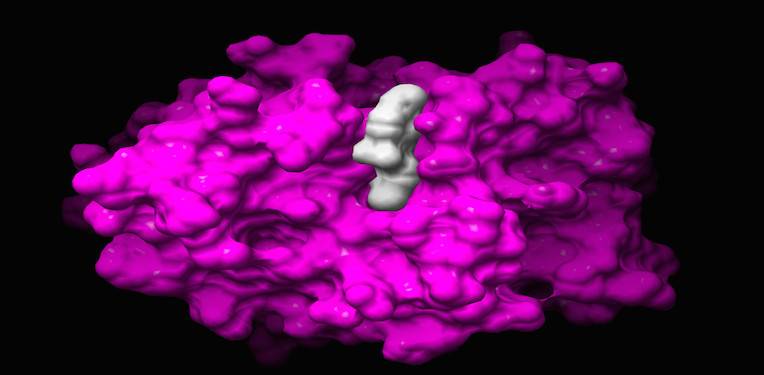 The lead candidate ET-D5 (in white) is an anti-mitotic and anti-vascular compound with an original molecular target. The destruction of blood vessels by ET-D5 shuts down the supply of O2 and nutrients to cancer cells and provokes a massive intratumoral necrosis. Another mechanism, by which ET-D5 targets cancer cells, is by arresting them in division, followed by cell death. Most importantly, ET-D5 presents interesting pharmacological properties, good toxicology profile and is active when administered per os.
Photo credit: Ecrins Therapeutics
– What differentiates Ecrins Therapeutics from its competitors?
Nowadays, novel validated molecular targets are rare. Therefore, we are excited to have found ET-D5, a small chemical molecule which targets protein phosphatase 1.
To the best of my knowledge, no other selective PPI inhibitors have been ever tested in the clinic. Therefore, we have every reason to expect the ET-D5 will have a UNIQUE efficacy and toxicity profile, differing the drug from the competition.
ET-D5 attacks the tumor vessels, resulting in the massive intra-tumoral necrosis, without touching the established vessels in healthy organs and tissues.
Several anti-neovessel drugs targeting tubulin have been studied in the clinic, but most of them had toxicity problems. Therefore, the fact that ET-D5 does not target tubulin is a potentially huge advantage.
– What are the perspectives for Ecrins Therapeutics? 
Following the successful series A investment round (closed on March 31, 2015) we are gearing up our research and development programs, which have now two main axes: human and veterinary oncology.
In this respect, I am delighted to say that in beginning of 2015, together with Swiss based Animal Oncology and Imaging Centre's (Dr. Barbara Kaser-Hotz) and UK's leading private Small Animal Cancer Treatment Centre VRCC (Dr. Susan North), we have been awarded the Eurostars grant to develop ET-D5 for the treatment of cancer in companion animals (dogs). This ambitious collaboration project with a total budget of 1.6 million euros, aims to test and develop ET-D5 for the veterinary market.
Finally, since 2013 we also launched the commercial division (Ecrins Therapeutics Product and Services), which offers products and services for the "drug hunters", academic and private researchers, working in drug discovery.
Another round of investment (series B) is scheduled in 2016 to finance the first-in-human clinical trial.
Once we have demonstrated in the clinic the anti-cancer efficacy of ET-D5, the project may be ceded to a large pharmaceutical company which will realize the Phase III clinical trial(s) and bring the product to the market. Alternatively, we might decide taking ET-D5 into Phase III ourselves.  For the company, this latter scenario means going public. Fortunately, since a few years, an IPO has become a realistic development for European biotechnology SMEs.
We thank Dr. Andrei Popov for answering our questions.