Second interview of BIO-Europe 2015. This time, it's a British company from Cambridge (UK): F-star. This morning we spoke with their CBO Jane Dancer.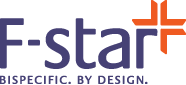 F-star is developing bi-specific antibodies for immuno-oncology and inflammatory disease. It has raised a total of 38 million euros from top EU VCs. Jane Dancer's business tenure within the field is impressive, with 5 years at MedImmune and 4 years experience with Cellzome, supported by a PhD and MBA in the life sciences field from the University of Cambridge.
It was great being able to talk with Jane about F-star's bi-specific antibody platform, the running of their clinical trials and the appointment of a strong management team (to include a new CSO with 20+ years experience at GSK!).
---
Here's the interview…