Kymab is the European biotech to watch! Based in Cambridge (UK), the company has developed the Kymouse platform, with a unique approach to antibody delivery that has allowed this biotech to advance drug and vaccine discovery in a range of key medical research areas including HIV, malaria, cancers and autoimmune diseases.
Kymab's golden egg lies in the Kymouse platform, developed as a method of discovering and producing human therapeutic monoclonal antibodies (mAb) using murine models. The knock-out / knock-in gene technique (Ko/Ki) in mice has been around for a long time, however it was through a partnership with Professor Allan Bradley's 'Mouse genomics Team' at the Wellcome Trust Sanger Institute that the Kymouse technology was born.
The innovative platform allows full use of the human B-lymphocyte diversity. Indeed, Bradley actually founded Kymab in 2009 as the first 'spin-off' biotech from the Institute's genomics research.
Kymouse works by using a precise form of insertion of target genes and not random transgenesis, which has permitted candidate mAb therapies developed using Kymouse to have a higher affinity than its competitors. The requirement for lead optimisation of candidates is also negated since the mAbs produced are already at optimal function in vivo, reducing the time taken for pipeline development.

Using more than one mouse-strain, the diversity profile of each has naturally expanded the number of antibodies that can be 'mined'. Utilising data from a library of over 100 trillion antibodies, the most specific mAbs can therefore be selected and tested to develop therapies with drug targets that have difficult and highly homologous sequences.
As a result, Kymouse has generated a lot of interest in the market, having been nominated London Stock Exchange techMARK 'Emerging Star' award for excellence in June 2015.
With a combined $70M (€63M) in equity funding from both the Bill & Melinda Gates Foundation and the Wellcome Trust, Kymab has very strong financial backing. Other equity-based investments include famous Venture Capital firms Malin Corportion and Woodford Patient Capital Trust, up to a total of $120M (€108M).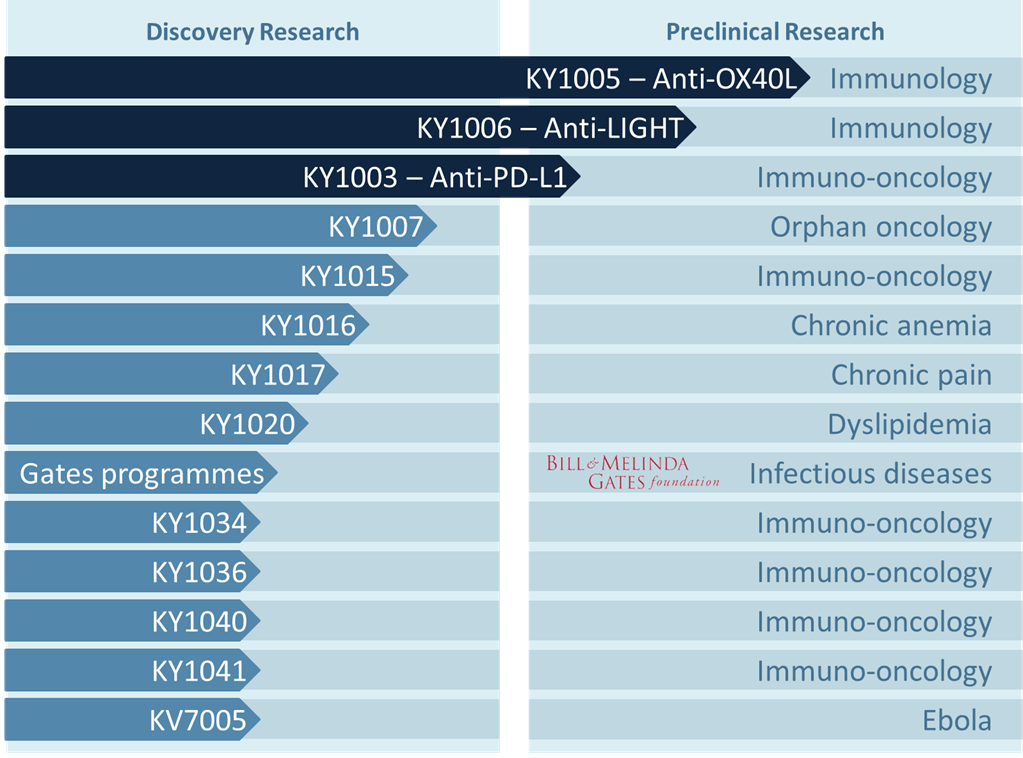 With a broad-range pipeline to include therapies developed for Ebola, immuno-oncology, other infectious diseases (including HIV and Malaria), chronic pain and chronic anemia, it is not surprising that Kymab has been listed in the Sunday Times Tech Track 'One's to Watch' 2015 just this month!
We therefore look on with excitement to see what the Keymouse technology will come up with next!