Our SynBio panel had a really popular turn-out at Labiotech Refresh. Chaired by Cathal Garvey, the Program Director at IndieBio EU, we had some very diverse leaders in the field present, from Biohackers to the CEO of Biofuel giant, Deinove.
Asides Cathal, on the panel we had Axel Polack, a General Partner at the Joint Polish Investment Fund, Thomas Ladrain, the founder and CEO of La Paillasse and the bio-ink startup Pili, and Emmanuel Petiot, CEO of Deinove.
I found this panel particularly interesting, and there were lots of good questions from the audience. Cathal was also particularly apt at steering the conversation to cover many areas in the industry, from small-scale biotinkering (biohacking) to industrial scale synthetic biology.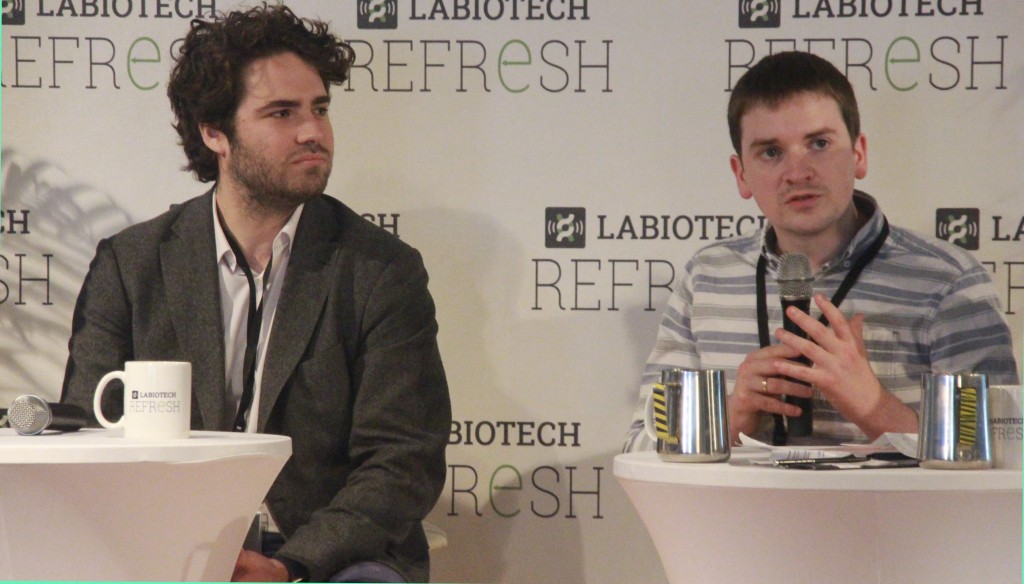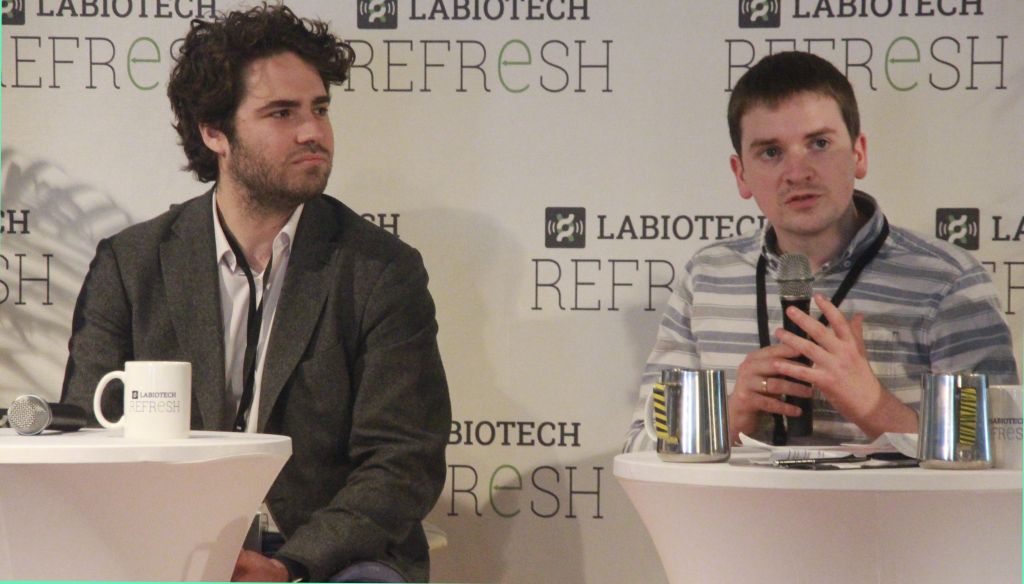 As he explained, most of the principles for SynBio were in the 80's and 90's (kicked off by the founding of Genentech). But progress was relatively slow.
So what was missing then?
It's difficult to say, but with limited budgets and means, part of the reason smaller synbio startups struggle is likely due to the difficulty in modelling proteins.
Protein engineering is the hardest aspect of SynBio, as we can't model this"
But now, due to the advances in computational biology and dramatic lowering of cost of these kind of tools, smaller to medium size SynBio companies can address these questions. There's also a really good infographic by SynBioBeta on the Synbio startup scene which is worth checking out. As Emmanuel, from the 'Deinococcus for biofuels' experts at Deinove commented:
…instead of manually designing a strain, we can ask a computer what characteristics we need"
And this has really sped up the process of innovation and discovery in field, and 'mining' for new molecular tools.
But what has really changed the Synthetic biology scene, is the access to knowledge and more DIY lab equipment (e.g. the Bento Lab), attracting those interested in SynBio from different disciplines to get involved, for truly creative approaches to biochemical problems.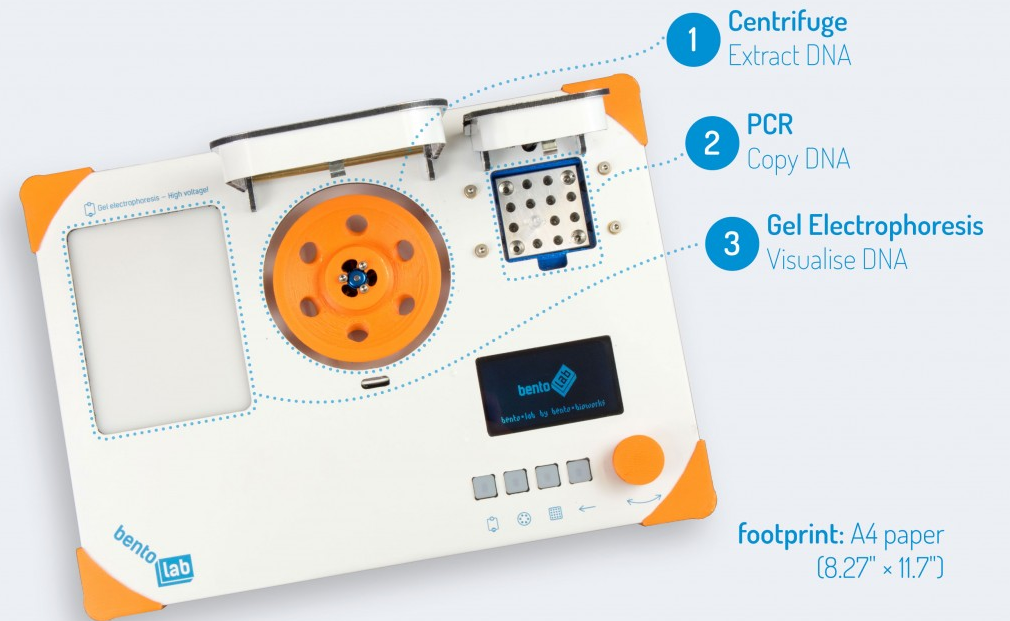 Still, it's not as simple as this – as finding a proper commercial application for these great ideas is of course the real challenge.
For example, in a tomato engineering project, a development in how to preserve flavouring in tomatoes was 'a complete flop', as Cathal stated:
…because they had no knowledge of an actual commercial application"
And if it is a useful product, what about then going from a small research lab (perhaps in your own house) to scaling up?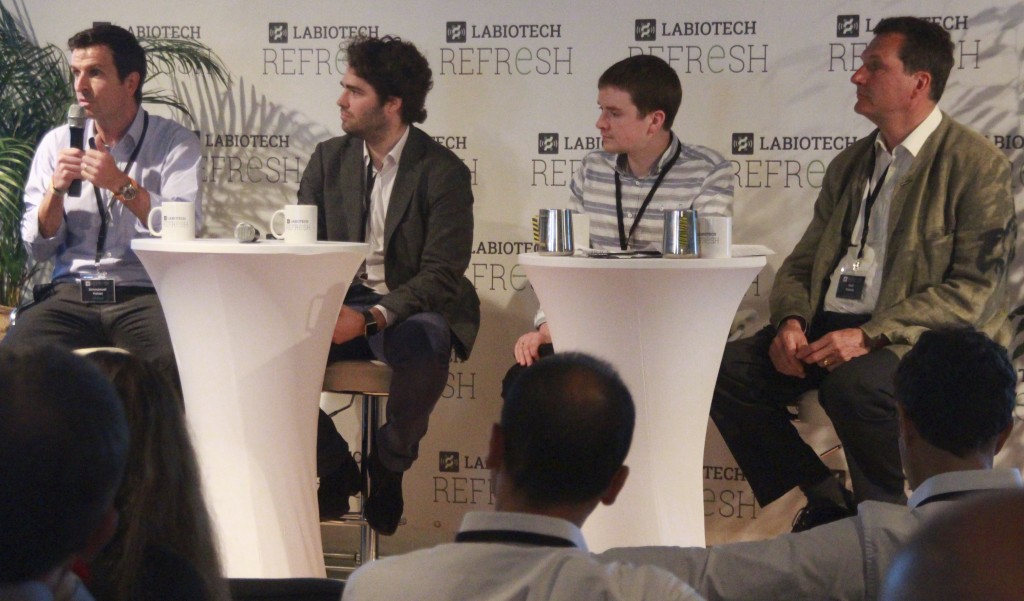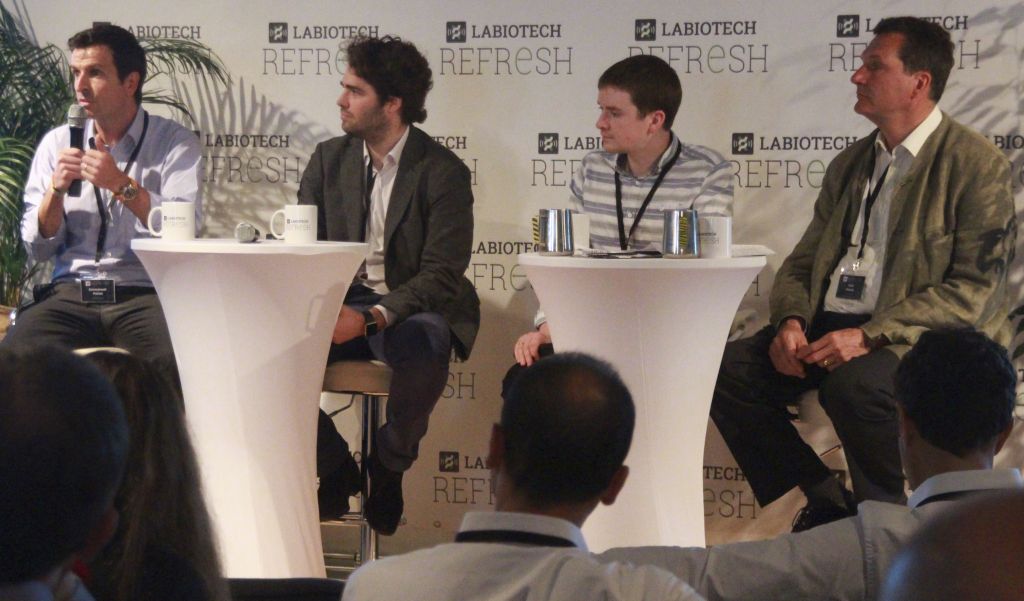 For industrial production, scaling up is where the real money and investment is needed – and convincing those from outside the field to invest (such as in the case of biological alternatives to petrochemical products). As Axel explained:
The chemistry industry is very reluctant to pay for this type of preliminary work – it's not used to do pharma type deals (i.e. partnering) to honour the innovation in a small company."
I think what made this panel work so well was the diversity of speakers. It was great to have some real pioneers in the Biohacking community present (both on the panel and in the audience), as well as some Industrial leaders – and then of course, investors. 
I think is what is needed more in the biohacking community, is bringing the SynBio conversation together. As those present showed, the field is still full of potential, but in need of a 'bridge' to showcase their ideas to investors (which isn't just restricted to iGEM and university groups) and those with the means to make these ideas more feasible long-term.
Perhaps we'll explore this further at Labiotech Refresh Paris.
---
Feature Image Credit: The Immunotherapy Panel at Labiotech Refresh Berlin, May 24th, 2016 (CC 3.0 – Claire Braun at Labiotech.eu)
All images of the conference speakers are available on our Flickr account under a Creative Commons 3.0 License. Feel free to share!
---