Wow! 55 of 59 patients in a Novartis trial experienced complete remission in one of the largest investigational CAR-T therapies for children with relapsed/refractory acute lymphoblastic leukemia (ALL).


These are the latest findings from an ongoing phase II study of CTL019, an investigational chimeric antigen receptor T-cell (CAR-T) therapy, further support its potential in the treatment of children and young adults with relapsed/refractory acute lymphoblastic leukemia (r/r ALL).
Developed at University of Pennsylania's Abramson Cancer Center and the Perelman School of Medicine (US), CTL019 was made as an autologous (one patient, one therapy) CAR-T candidate to target the CD19 tumeric antigen. CTL019 has previously demonstrated great phase I results for other blood cancers like Chronic lyphocytic leukemia (CLL) back in 2011. However, results from this study were promising, but no where near as dramatic as the phase II trial for r/r ALL.
The ongoing study of CTL019 in pediatric patients with r/r ALL is being led by Stephan Grupp at the Children's Hospital of Philadelphia (CHOP).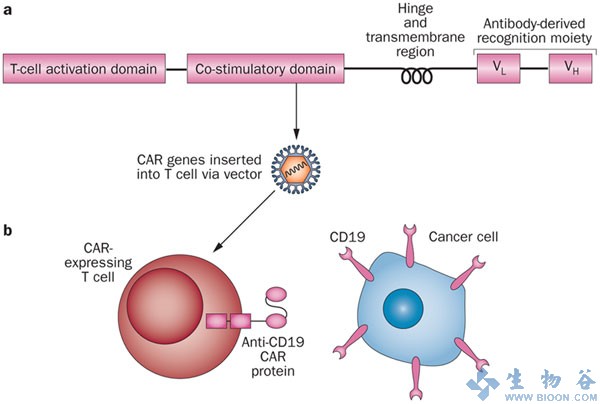 This is a massively encouraging set of results, particularly considering how few patients have experienced the 'wonders of CAR-T' so far. However, despite overwhelming hype in the media and biotech field (particularly following the 'miracle cure' of a baby from the UK with advanced ALL last month), CAR-T specialists like Cellectis (France) are urging people to not get carried away…
You can read our interview with the CEO of Cellectis, Andre Choulaka to get a more grounded report of CAR-T, which we also wrote a review on yesterday.
One of the disadvantages of CAR-T which was discussed in our review however, did come to reality in the CTL019 trial. Within the same study set, 52 of 59 (88%) patients developed Grade 1-4 cytokine release syndrome (CRS) with flu-like symptoms (high fevers, nausea, muscle pain, and low blood pressure and breathing difficulties).
As a result, 27% of the patients which developed CRS needed reverse treatment with IL-6 receptor antagonist when blood pressure and respiratory status became unstable. Despite this, Novartis has now expanded the phase II clinical trial for CTL019 in pediatric r/r ALL to include multiple study sites in Europe, Canada and Australia.
So, this up and coming multi-centre global phase II trial will hopefully re-affirm the hugely encouraging results for this CAR-T therapy.
---
Acute Lymphoblastic Leukemia: CAR-T Results as of November 2013 at the Children's Hospital of Philadelphia (CHOP)