GFBiochemicals in (Italy) is producing levulinic acid (from breakdown of biomass) to replace petroleum-based products for a huge range of sectors, with up to a $30Bn market volume.
We had the chance to meet Marcel Van Berkel, the CMO of GFBiochemicals, which is based in Milan with additional Netherlands and Minnesota (US) sites.
Berkel told us more about the many uses of this 'Greentech miracle acid', and how they had just acquired a US company also active in Levulinic acid derivatives production (Segetis), which holds more than 50 patents and over 200 pending patent applications worldwide.


---
How did you become CMO at GFBiochemicals?
I have more than 25 years of international experience as a business professional at companies such as DSM (Netherlands) and Solvay (Belgium), and a solid track record in bringing businesses to the next level of growth via strategic alliances.
Since I believe that the bio-based economy can only be successful with new platform technologies like levulinic acid, I took the role of Chief Commercial Officer with the aim of strengthening GFBiochemicals' strategy to bring levulinic acid to the market.
When and how did the idea for GFBiochemicals originate?
GFBiochemicals' mission is to bring bio-based levulinic acid to market through technology innovation and enable new applications by in-house process development, production and commercialization. The acquisition of Segetis is a good example of the latter.
We were founded in 2008 to develop the production technology of levulinic acid to replace petroleum-based products across a range of market sectors, with a one-step process directly from a wide range of cellulosic feedstock.


The company has been supported by the University of Pisa and the Polytechnic University of Milan. The Caserta plant is in start-up phase since mid-2015 targeting a production capacity of 1200 tons/year. Expansion to 10,000 tons/year is planned in 2017.
Why is Levulinic acid production so important to the Industry?
Through its proprietary technology, GFBiochemicals is the largest producer of levulinic acid directly from biomass at commercial-scale.
Levulinic acid was recognized by the US Department of Energy as one of the top bio-based platform chemicals of the future. It can replace petroleum-based chemicals in market segments such as personal care, flavours (e.g. caramel and butterscotch) and fragrances, detergents, pharma, bio-based polymers (e.g. an alternative to bisphenol A in decorative resins), solvents and even fuels…
Levulinic acid is therefore a versatile building block in a wide range of applications that are used in a market of a total volume of more than $30Bn.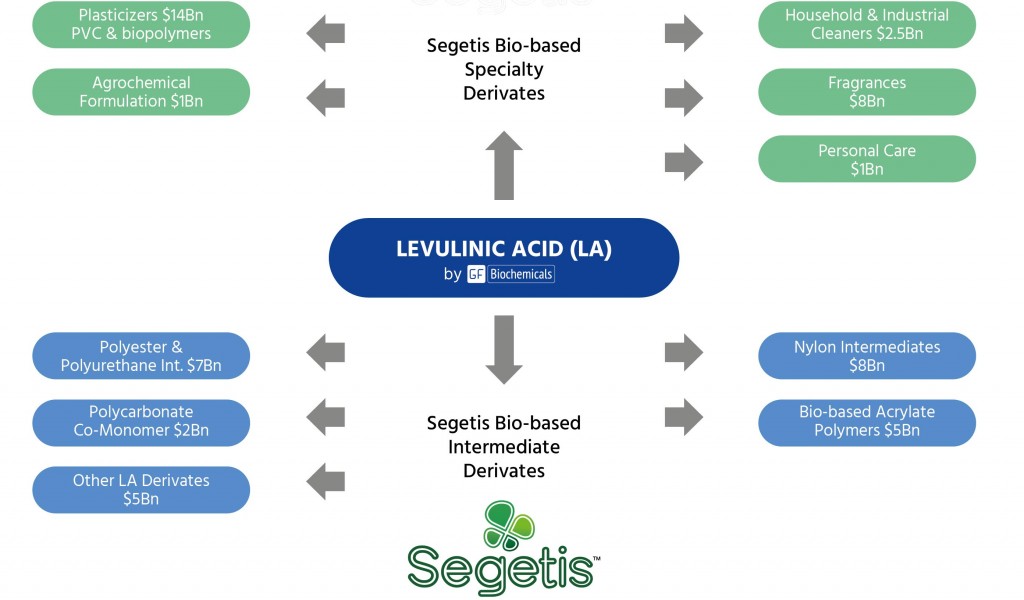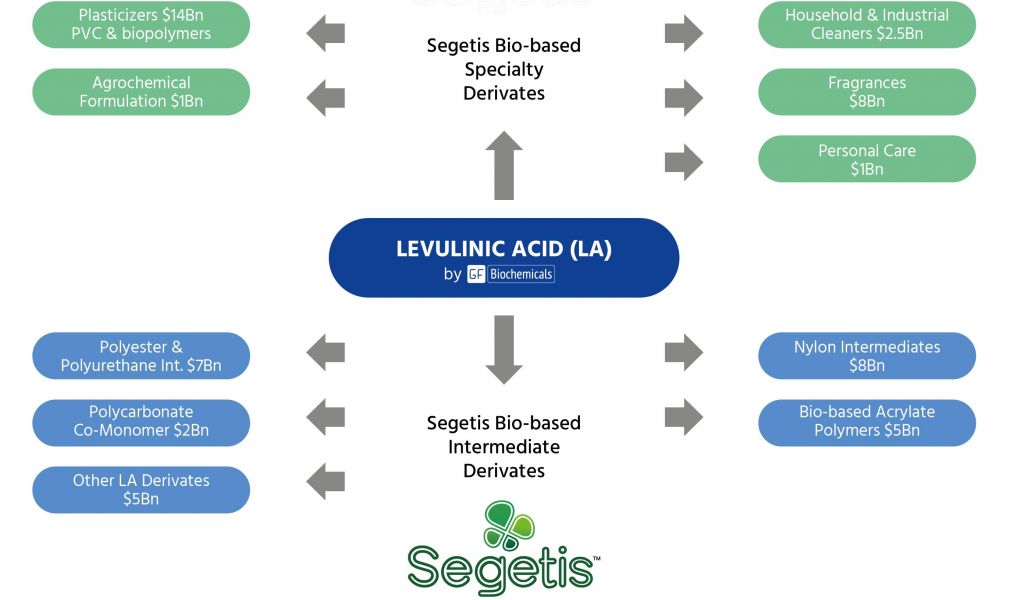 Our technology enables production at lower price ranges compared to typical market costs of levulinic acid today. This is needed to enter new market segments as technology platform.
What could the acquisition of Segetis bring to GFBiochemicals? 
Segetis is a producer of levulinic acid derivatives in the US market, with a unique set of know-how and expertise composed by over 250 patents applications worldwide.
It just started developing the market for levulinic acid derivatives back in 2007, in particular for levulinic ketals, for personal care, cleaners, degreasers, agrochemicals, paint-strippers and non-phthalate bio-based plasticizers.
With the acquisition of Segetis' assets and IP, including the Javelin brand of levulinic ketals technology, we can therefore accelerate market entry for levulinic acid and its derivatives.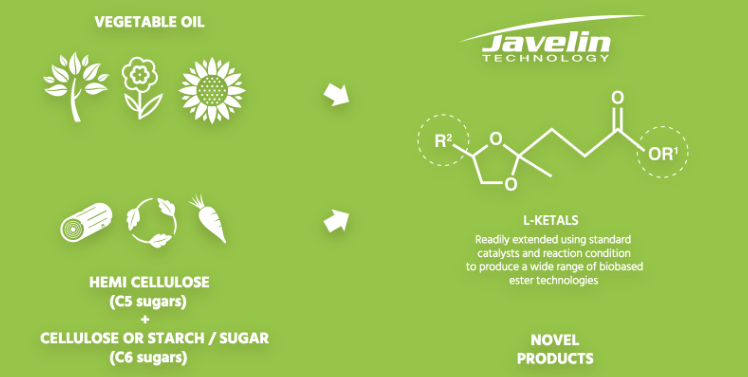 We're therefore integrating downwards in the value chain, and will start to directly produce a wide range of environmentally friendly products using bio-based levulinic acid.
Methyltetrahydrofuran (MeTHF), a levulinic acid derivative, can be blended up to 50% with gasoline to increase vehicle performance and reduce air emissions."
As a matter of fact, Segetis' technology is a perfect fit for us, enabling the joint business to create high-value derivatives from this natural acid.
GFBiochemicals will continue on a development path based on both organic growth (via the creation of high-value partnerships with major companies), as well as the potential for further acquisitions…
---
Feature Image Credit: Remix of Graphics by Labiotech with Open Source Material (Credit: GFBiochemicals / Segetis.bio)