Today is Life Science Pitch Day in Aachen! High-Tech Gründerfonds has invited a handful of startups in the seed and Series A stages to make their pitches to investors this afternoon. Here are three of the companies who you'll hear speak!
cytena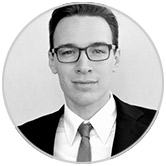 cytena, a spinoff from the University of Freiburg, is improving current methods in the development of cell lines, the backbone of biomedical research. Its single-cell printer aims to provide proof of clonality as a means of quality control.
Designed for the benchtop and launched in 2015, the printer sorts a single cell from any suspension onto any substrate. Then, a researcher can quickly and efficiently examine it to determine its clonality.
"The highest demand for our technology is in cell line development, but there are a lot of other applications, like single-cell genomics," says CFO Benjamin Steimle(left). "Right now, we own the IP, and we're focused on cell line development applications to ensure clonality."
DEOXY Technologies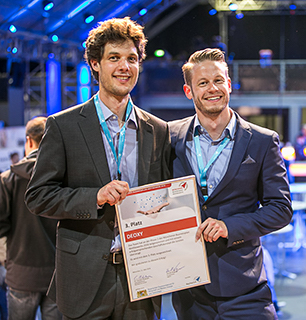 "Our vision is to revolutionize personalized medicine by making it more widely accessible than it is now," says co-founder Robert Grummt. He, Johannes Wöhrstein (both right) and Heinrich Grabmayr founded DEOXY Technologies to make gene expression profiling more accessible to clinicians, who are rarely able to use them to personalize treatments. This detail may seem like a luxury, but it is invaluable in matching a patient to cutting-edge procedures that are usually expensive.
How does it work? "mRNA profiling in cellular samples telling us what genes are expressed in what cells to stratify patients according to gene signatures," explains Wöhrstein. "The technology we're developing is an order of magnitude faster and an order of magnitude cheaper than existing techniques."
Since its inception at LMU, DEOXY Technologies now has a comfy cash position but remains ambitious: "We have the great position that we don't need money right now," says Grummt. "We've just secured funding — our aim here is to catch the interest of the VC scene."
SpinDiag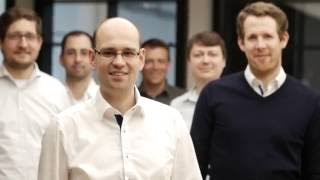 Daniel Mark co-founded SpinDiag to address the spread of antibiotic-resistant bacteria, together with his team Gregor Czilwik, Michael Lauk, Mark Keller, Dominique Kosse, Oliver Strohmeier and Frank Schwemmer (left). The concept? A portable automated laboratory to test samples via PCR for various antibiotic-resistant bacteria, all on a CD.
Mark says the company drew its inspiration from clinicians: "we very often heard that they wanted to be able to test if a patient is carrying antibiotic-resistant bacteria to avoid the spread." However, current methods take days to return a result leading to extensive but perhaps unnecessary efforts to contain a potential threat.
In order to cut costs and headaches, "we're developing point-of-care diagnostics to give them an answer right away," says Mark. "We're still in the process of raising funds, and we're all very eager to get this on the road and start working on it full time."
---
Good luck to all the participants!
---
Images from Christian Müller / shutterstock.com, cytena, BayStatup, SpinDiag