Investment in London's life sciences companies reached almost £1B in 2017, beating the likes of Berlin and Paris to top spot.
A new study has found that London's life sciences industry received the most investment out of any city in Europe in 2017. Over the last 5 years, companies in the capital have raised £2.8Bn (€3.2Bn), with £909M (€1Bn) arriving in the past 12 months alone, dwarfing the sums raised in Paris and Berlin – two of the other leading biotech hubs in Europe.
The study was produced by MedCity, a collaboration between the Mayor of London and five Academic Health Science Centres in the region. Its CEO, Sarah Haywood, had her say on the news: "The pace of innovation in the life sciences sector… coupled with a fertile funding environment and supportive regulatory system, has helped fuel this record investment into companies across London, Cambridge, and Oxford. The enthusiasm for UK life sciences is encouraging new UK and global investors to plow money into our resilient sector."
Their findings may be unsurprising for some considering the size of London, now home to more than 8 million people, a number of top universities, and a huge number of biotechs spanning a wide variety of fields. The British capital dwarfs its closest rivals, Berlin and Paris, which could be seen as a bit of an advantage. In particular, the report picks up on the big deals signed by Orchard Therapeutics, Autolus, and Cell Medica raising £85M (€89M), $80M (€64M), and £60M (68M), respectively.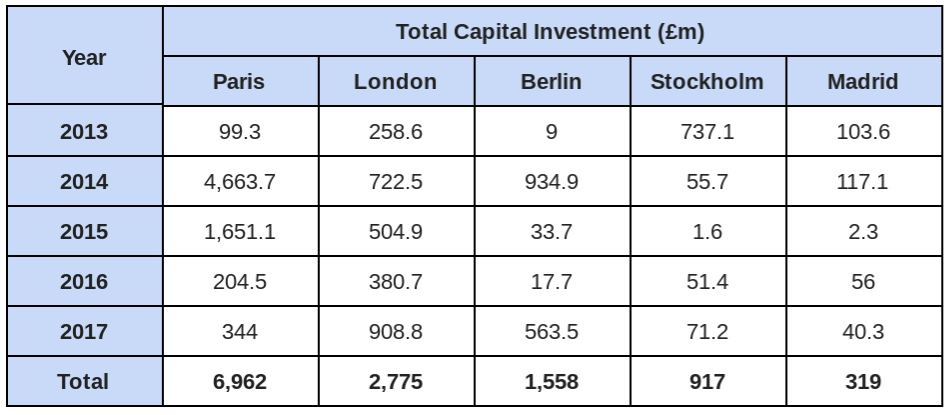 Oxford and Cambridge also raked in plenty of investment last year thanks to their prestigious universities being home to some of biotech's most innovative thinkers. Big deals included $40M (€33M) from the Bill & Melinda Gates Foundation to help Immunocore develop immunotherapies for infectious diseases and GW Pharma raised $276M (€235M) by selling 2 million shares on NASDAQ. Together with London, these cities are responsible for drawing in 63% of the investment in the UK's life sciences industry.
However, over the last 5 years, Paris has outperformed London, owed mostly to two very strong years, 2014 and 2015, when its companies raised more than £1B. In addition, Germany has raced ahead as the country with the most heavily funded life sciences industry in Europe. Over the last 5 years, British companies have raised around £17Bn (€19Bn) in comparison with the £20Bn (€23Bn) taken home by their German counterparts.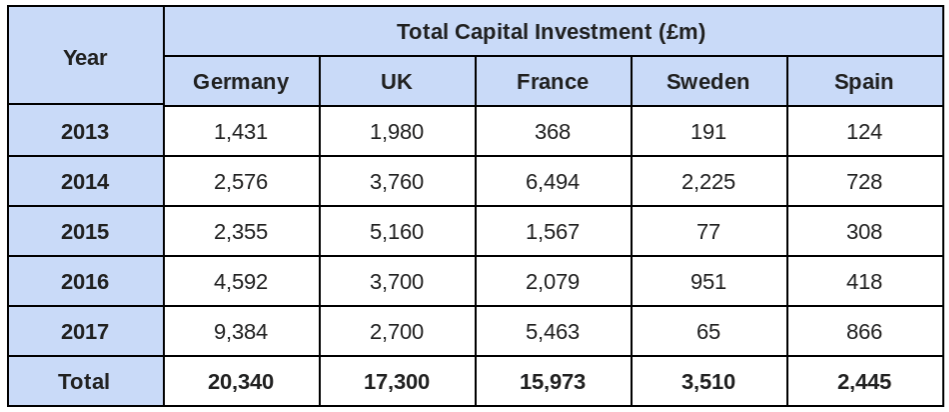 Despite London and Paris leading the way in terms of the money raised by individual cities, Germany has attracted the most investment as a country. Perhaps this points to the British and French biotech ecosystems being too centralized to the Golden Triangle and Paris, respectively. In contrast, Berlin may be a hotbed for startups, but in other cities across the country, you can find top biotechs like MorphoSys in Munich, BioNTech in Mainz, and AiCuris in Wuppertal, as well as impressive universities and research institutes.
Looking ahead, it will be interesting to see whether Brexit has an effect on the level of investment coming into the UK's biotech industry. In addition, what is almost more important than exactly where investors spend their money, is the willingness of companies to collaborate and the growth of Europe's biotech ecosystem.
---
Image via stocker1970 / Shutterstock