Lysogene has crunched the numbers on its observational study for Sanfillipo A – now the company can move into the final phase for its Sanfilippo A therapy.
Lysogene is a French biotech specializing in gene therapy of rare CNS diseases. Its lead asset is a gene therapy for the treatment of the rare genetic disorder Sanfilippo A. This disease severely damages the nervous system and affected children often don't reach adulthood. The new baseline data from its pivotal observational study will lay the groundwork for Lysogene's upcoming phase II/III gene therapy trial.
The recent study should evaluate the clinical progression of untreated Sanfillipo A patients. "This baseline data is just the first of several sets of data points that we hope to glean from this investigational study in order to further understand Sanfilippo A," stated Soraya Bekkali, Chief Medical Officer.
Also, Lysogene formed a clinical expert panel and established the first international neurologist and neuropsychologist expert group to define clinical endpoints and assessment tools. The most relevant primary endpoint was determined to be cognitive assessment using the Bayley Scales of Infant and Toddler Development (BSID-III).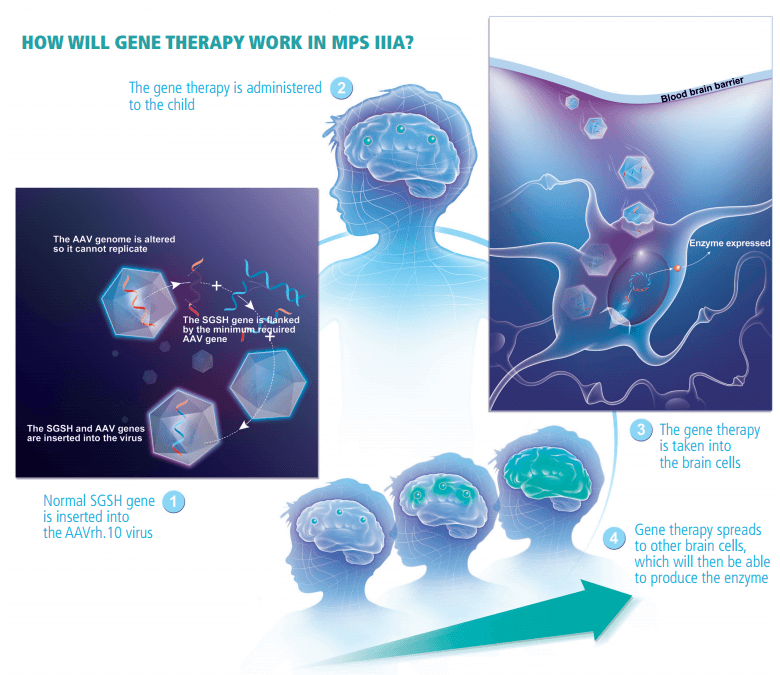 Karen Aich, CEO of Lysogene, founded the company in 2009 with the aim of developing the first treatment for Sanfillipo A for her daughter, who herself is suffering from this disease. Sanfillipo A is characterized by a deficiency of an enzyme required to breakdown heparan sulfate, causing a toxic build-up of this substance that eventually leads to permanent tissue damage and paralysis.
Lysogene wants to replace the faulty gene causing the disease with a gene therapy approach. The company uses an adenoviral vector (rAAVrH10), which carries the gene coding for the defective enzyme and which is delivered directly to the CNS by brain surgery.
A phase I/II study with 4 children with Sanfillipo A already revealed good tolerability and encouraging efficacy profiles of the new therapy. But as Karen told us in our last interview: "We absolutely cannot use a placebo, given the nature of the trials with children and the use of neurosurgery."
The new study is a definitive requirement to advance into phase II/III — the final step before commercialization. Even though the company was not quite successful with its recent €22M IPO, this does not stop Lysogene from moving further towards its goal of market approval. With only two candidates in the pipeline, the success of the phase II/III trials will be crucial to the company.
Images via shutterstock.com / Leigh Prather and Lysogene.com