Medigene will make its clinical debut in TCR, in a collaboration with the Max Delbrück Centre and the Charité Hospital in Berlin. The planned Phase I trial focus on the blood cancer multiple myeloma.  

Based near Munich (Germany), Medigene develops different anti-cancer cell therapies, as we recently discussed in an interview with former CFO Peter Llewellyn-Davies. It is actually one of the key European players in the TCR field (a kind of 'younger sibling' of CAR-T), along with Immunocore and Adaptimmune.
In fact, Medigene used to hold shares in Immunocore until recently. In April, it sold 50% of its stake in this true money-magnet for €6.1M to focus on its own TCR program.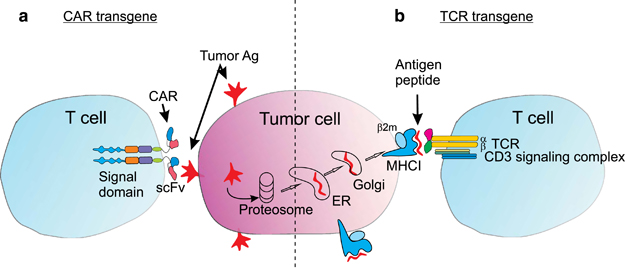 Now, a TCR that has been developed during a special research program called SFB 36 involving the workgroups of Prof. Thomas Blankenstein from the Max Dellbrück Center and Prof Dolores Schendel from Medigene will take an important step forward. It will be used in a Phase I trial for patients with relapsed/refractory multiple myeloma (a type of blood cancer).
The therapy will engineer specific T-cell receptors for melanoma-associated antigen 1 (MAGE-A1), a protein associated with multiple myeloma.
The trial will be funded by the German state (through the BMBF) and carried out by Medigene, the Max Delbrück Center (MDC) and Charité, one of Europe's largest university hospital  and which plays an important role in Berlin's Biotech ecosystem.

As for Medigene's role in the trial, it will support this investigator-initiated trial by handling regulatory matters – such as the trial approval. It will also work alongside MDC as an advisor in analytics and manufacturing.
In exchange, the Munich-based biotech retains the right to negotiate an exclusive license after the results of the study are out. In case it doesn't get an exclusive lock on using the results, it'll be able to get a cut of the profits for other derived products.
This is the first clinical trial with Medigene's involvement. Its own clinical TCR trials are planned to start in the second half of 2017 and in the second half of 2018.
UPDATE 1/7/2016: 
Medigene, MDC & Charite have started a cooperation for the first TCR study in Germany, but the trial hasn't started yet.
Also, the TCR candidate doesn't belong to Medigene, but Medigene holds a first right of negotiation for an exclusive license for the product candidate.
Medigene sold 50% of its stake in Immunocore, not that it owned 50% of the company
---
An animated explanation of Medigene's TCR therapy…
---
 Feature Image Credit: Medigene
Figure 1 Credit: Kershaw et al. (2014) Clinical application of genetically modified T cells in cancer therapy. Clinical and Translational Immunology (doi: 10.1038/cti.2014.7)
---