Merck (Germany) has initiated a phase III trial for a biosimilar of AbbVie's Humira, to treat Chronic plaque psoriasis. This is a big deal as Humira is the best selling biologics of all time (over €10Bn in annual revenues).

Merck is developing a candidate (MSB11022) as a biosimilar of adalimumab, a human monoclonal antibody sold under the brand Humira – a key asset to AbbVie.
MSB11022 has the same action mechanism, binding the tumour necrosis factor-alpha (TNF-α) – a cell signalling protein produced by cells of the immune system. Blocking TNF-α reduces the inflammation response, and thus could have applications in many inflammatory diseases.
Merck is now advancing with phase III trial (AURIEL-PsO) for Chronic plaque psoriasis. This double-blind study will enrol 406 patients in the US and Germany, and is sponsored by the US arm of Merck, EMD Serono.
Merck expects to have top-line data in the end of 2016.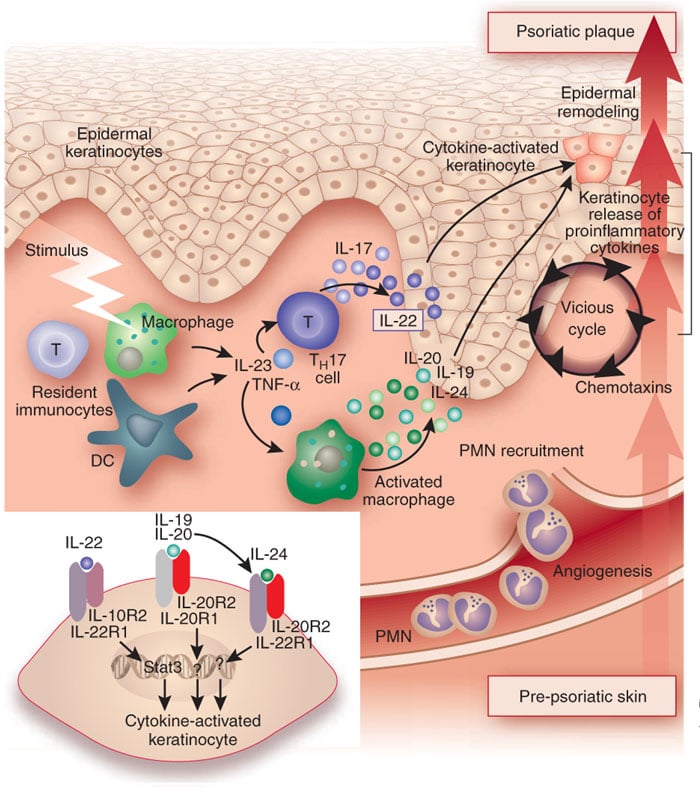 Merck's development of this biosimilar is aligned with its recent focus on immunotherapy. However, it is not the only Pharma working on a copy of AbbVie's blockbuster. Pfizer, Novartis and Amgen are also all working on their own biosimilars of Humira.
Drugs based on TNF inhibition seem a popular target for biosimilars, probably because of the wide (and profitable) range of diseases which could be treated using this pathway. These include psoriasis, Rheumatoid arthritis, Ulcerative colitis and Crohn's Disease.
However, there are no biosimilars for Humira on the market yet. So the question does not seem to be when it will happen, as much as who will get there first… 
---
Feature Image Credit: Antibodies © Animaxx3d (BigStock ID106797554)
Figure 1 feature: Nickoloff (2007) Cracking the cytokine code in psoriasis. Nature Medicine (doi: 10.1038/nm0307-242)