Latest results of MorphoSys candidate for Multiple Myeloma show that it was Celgene's loss when it abandoned the phase I/IIa trial partnership on blood cancer.
Announced at the American Society of Hematology (ASH) Annual Meeting this weekend in Orlando (US), the phase I/IIa drug for blood cancer from MorphoSys has shown good tolerability for this Munich based Biotech. Indeed, the results are so encouraging that the candidate has best-in-class tolerability profile for the 52 patients with relapsed/refractory Multiple myeloma enrolled on the trial.
MOR202 is a fully human monoclonal HuCAL antibody targeting CD38, a highly expressed and validated target in multiple myeloma. CD38 is a promising target for the treatment of this type of cancer and potentially for hematological malignancies too. As Arndt Schottelius from MorphoSys explained:
The clinical study will continue as planned, focusing on combination cohorts, as we see the highest potential for MOR202 in combination therapy"
An effective antibody against this target could not only change future treatment regimens in multiple myeloma, but also embody a basis for treating several other types of cancer. For example, CD38 is also targeted by Genmab's blockbuster daratumumab which is already approved for multiple myeloma patients (who have received at least three prior lines of therapy) in the US.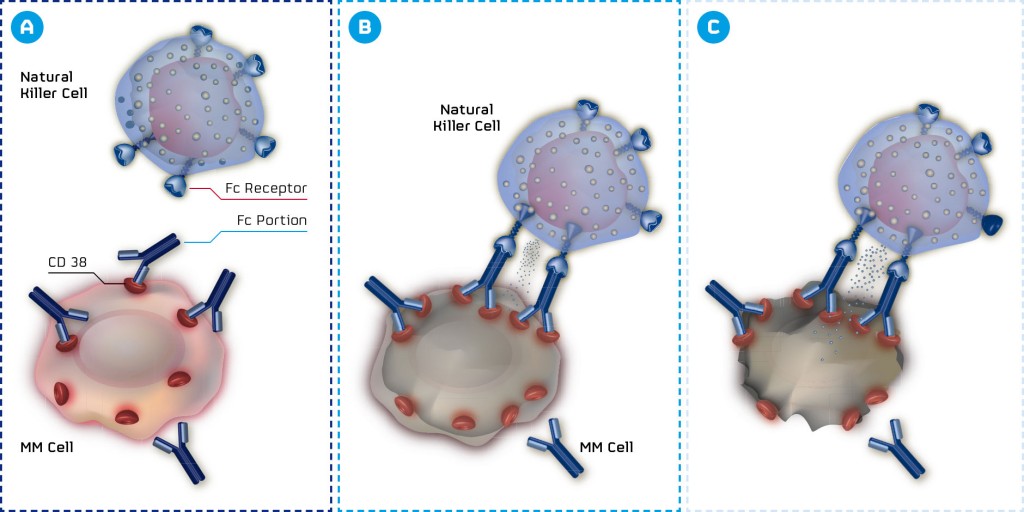 The project fell into a darker time after Celgene abandoned their partnership on  MOR202's development, but now, safety and efficacy data have shown that there is nothing to worry about. Indeed, the latest phase I/IIa Interim Safety, Pharmacokinetic and Efficacy sets of  Data (presented at the ASH) show that MOR202 can be safely administered as a 2-hour infusion.
Labiotech had the chance to interview Simon Moroney, the CEO and one of the founders of MorphoSys (one of our Top 9 EU-based billion euros Biotechs) at Bio Europe last month. The Munich-based company was founded in 1992 and now counts +-350 employees for a market cap of roughly €1.5Bn. Watch below.
Last week we also wrote about Kesios,  a start-up Biotech based in London (UK) which has raised over €27M in a Series A funding round for its pipeline targeting the fight against Multiple myeloma. Multiple myeloma is a haematological cancer that arises from proliferation of malignant plasma cells which accumulate in the bone marrow.
It is a disease believed to account for ~10% of hematological cancers and about 2% of all cancer deaths…so understandably it is a desirable indication for Biopharmas to research, and likewise, for venture capitalists to support.
So after Celgene pulled out of the MOR202 Program, this candidate remains un-partnered on for trial progression. Perhaps these results will coax other potential partners who are also keen to see a new product on the Blood cancer market?
---
Philip Interviewing Simon Moroney (CEO  of Morphosys) at Bio Europe in Munich Last Month