Update (01/02/2019): MorphoSys has agreed to end its long-running legal battle with Genmab and Janssen, after the US District Court of Delaware declared three of its cancer immunotherapy patents invalid.
MorphoSys began the dispute over Darzalex (daratumumab), Genmab and Janssen's approved antibody therapy for the blood cancer multiple myeloma. MorphoSys alleged that Darzalex infringed on three of its patents regarding antibodies targeting the same antigen as Darzalex. Now that the court has declared MorphoSys's patents invalid, MorphoSys has decided not to appeal the decision. The three companies have therefore agreed to end the dispute, with the victorious Genmab and Janssen able to continue selling their blockbuster therapy in the US.
---
Published 06/04/2016:
MorphoSys yesterday announced that it filed a lawsuit against Janssen Biotech and Genmab for patent infringement.
The patent in question (owned by MorphoSys) describes and claims antibodies with particular features that bind to CD38, which is now being investigated in a lawsuit by the US District Court of Delaware.
By its complaint, MorphoSys seeks claims for infringement on the manufacture, use and sale of Janssen (a subsidiary of J&J) and Genmab's daratumumab, an antibody targeting the CD38 surface antigen.
The CD38 antigen is implicated in a range of cancers, including multiple myeloma – a blood cancer which is seldom curable. This has therefore led to a particularly high demand for alternative treatments such as those that target CD38.
Janssen and Genmab recently obtained FDA approval on daratumumab (after 2013 fast track designation and FDA 'Breakthrough Therapy Design') and are marketing the product as Darzalex in the US.
Meanwhile, MorphoSys continued to develop MOR202, its own investigational human antibody to CD38 for the treatment of cancer, including multiple myeloma.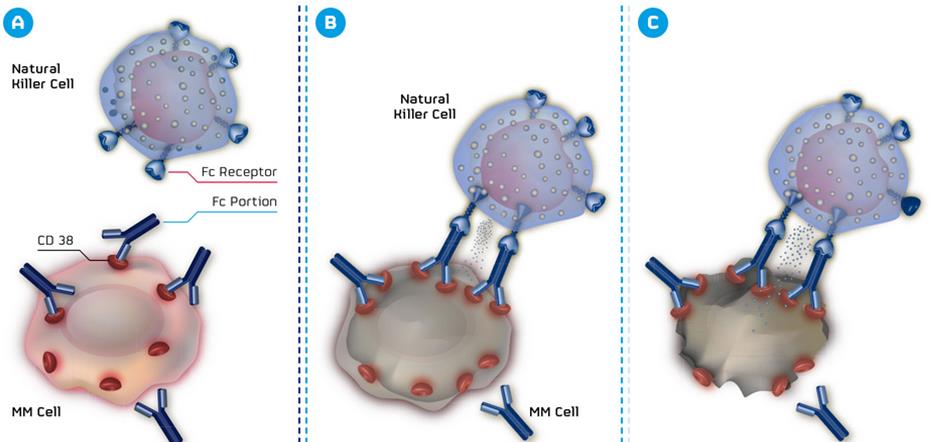 With MOR202 currently in phase I/IIa trials, it is understandable that MorphoSys is getting a little hot around the collar on this one – particularly given Celgene (US) abandoned its partnership with MorphoSys on the programme last March.
And now it seems Janssen and Genmab currently have the advantage given the number of ongoing trials of daratumumab for patients with multiple myeloma.
Patent infringement is such a minefield in biotech, especially for indications over which the demand is so fierce – and potential gains for the suing party so large (see this table on the rich history of legal action as a side source of income for many companies).
Only last month Oxford Nanopore hit headlines as it butted heads with the NGS giant Illumina over their technology. And then in the case of biosimilars, a company has to be extremely careful to bring a competitive drug to the market unscathed – since the majority fail.
And this could be quite a blow for Genmab and Janssen, given that suing parties often negatively affect capital and investors 'perception of scientific discovery'. According to West's writings (back in 2007) up to 10% of some budgets for Biotechs are dedicated to legal fees, since the threat of legal action and damages to investor perception can be so acute ('given all the business in biotech is based on intellectual property').
So it could mean Genmab and Janssen have to pay out. However, stocks don't appear to have taken too much of a hit so far, and it's not clear how things will turn out just yet.
---
We actually interviewed MorphoSys on their programme at Bio-Europe in November…

---
Images from Shutterstock and MorphoSys