New Oncology completed a financing round to prepare the market launch of NEOliquid, a non-invasive blood test that identifies therapeutically actionable genome alterations in the circulating free tumor DNA (ctDNA) of cancer patients.
New Oncology's pan-cancer diagnostic platform NEOplus reliably detects actionable genome alterations from one single patient sample with short turn-around times. In contrast to conventional testing, NEOplus identifies all types of therapeutically relevant alterations, i.e. mutations, amplifications, insertions/deletions, as well as known and novel translocations, from the smallest quantities of routine tumor specimens. New Oncology works with a tumour board comprising renowned cancer experts, facilitating translation of the latest targeted therapy findings into optimized patient care.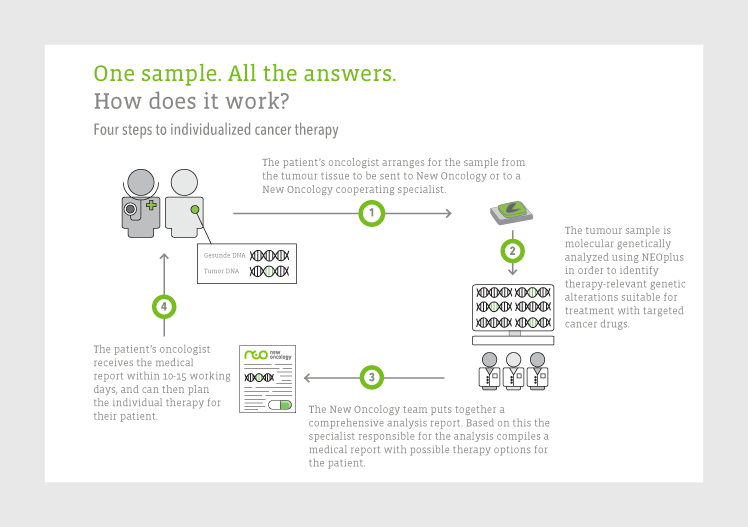 NEOliquid test allows detection not only of mutations, but also of therapeutically relevant gene fusions (e.g. affecting ALK, ROS or RET kinases) with the highest sensitivity and confidence. Existing shareholders as well as additional investors participated in this financing round. Financial details were not disclosed.
"We are excited about the prospect of identifying therapeutically relevant genome alterations without the need to perform painful biopsies. This financing round is a critical step towards this important goal." commented Prof. Roman Thomas, founder of New Oncology.
The Cologne-based biotech company is sustainably growing. We already talked about its agreement with Gustave Roussy Cancer Campus in Paris. Achieving fundraising for NEOliquid is a great step forward to accomplish a complete cancer diagnostic platform.