Bicycle Therapeutics, a next generation biotherapeutics UK-based company developing first-in-class bicyclic peptides, announced that it had secured an equity financing of €25 million for the clinical development of therapeutic bicycle drug candidates in oncology. 
Bicycle has used its proprietary bicyclic peptide technology that enables to discover a new class of drug candidates, which have similar selectivity and potency to antibodies but are 100-fold smaller and are manufactured using simple, economic chemical synthesis. This financing will support the clinical development of bicycle-drug conjugates (BDCs) that are highly selective to tumour-specific targets, with sub-nanomolar affinities. Preclinical models show that these BDCs extravasate and penetrate tissues much more rapidly and efficiently than antibodies, effecting rapid cell killing through the tumour mass and fast clearance. This results in effective tumour lysis with minimal systemic exposure.
You can have a look on this video. The models are the molecular dynamics of the same amino acid sequence as a linear peptide (left), as a monocycle (centre) and as a bicycle (right). The higher constraint of the bicycle results in the three side chains being more frequently in the correct orientation to bind with the target.
Bicycle technology has broad application in oncology, respiratory, inflammatory and ophthalmology disease, as agonists, antagonists or for delivering payloads. The company's projects in BDCs for oncology will be leveraged by pharma partnerships addressing targets nominated by partners, where the rapidity of lead discovery and optimisation enables drug candidate selection in months.
The investors who participated to this financement are Atlas Venture, Novartis Venture Fund, SR One, SV Life Sciences and Astellas Venture Management.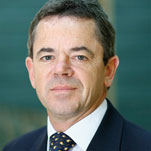 Andrew Sandham, Chairman of Bicycle, said: "This second round financing enables us to advance our BDC candidates to clinical development in cancer indications. We also have the capacity to work collaboratively with pharma partners on other targets and indications in many diseases." 

Rolf Günther, CEO, added, "Bicycle technology was invented by our founders, Sir Gregory Winter and Professor Christian Heinis. We have developed the platform for rapid discovery and optimisation of drug candidates, and are delighted that we are now able to demonstrate clinical utility of this exciting new class of molecules."
This new financing round occurs one year after unveil their collaboration with ThromboGenics. They planned to develop potent and selective bicyclic peptide inhibitors against a specific drug target of interest for the treatment of ophthalmic diseases, such as diabetic macular edema.