Newron Pharmaceuticals, a public company focused on novel Central Nervous System (CNS) and pain therapies, announces that it has completed a capital increase of approximately €23.2M (CHF24.3 million). This fundraising will be used to accelerate the development of Newron's pipeline of innovative CNS therapeutics: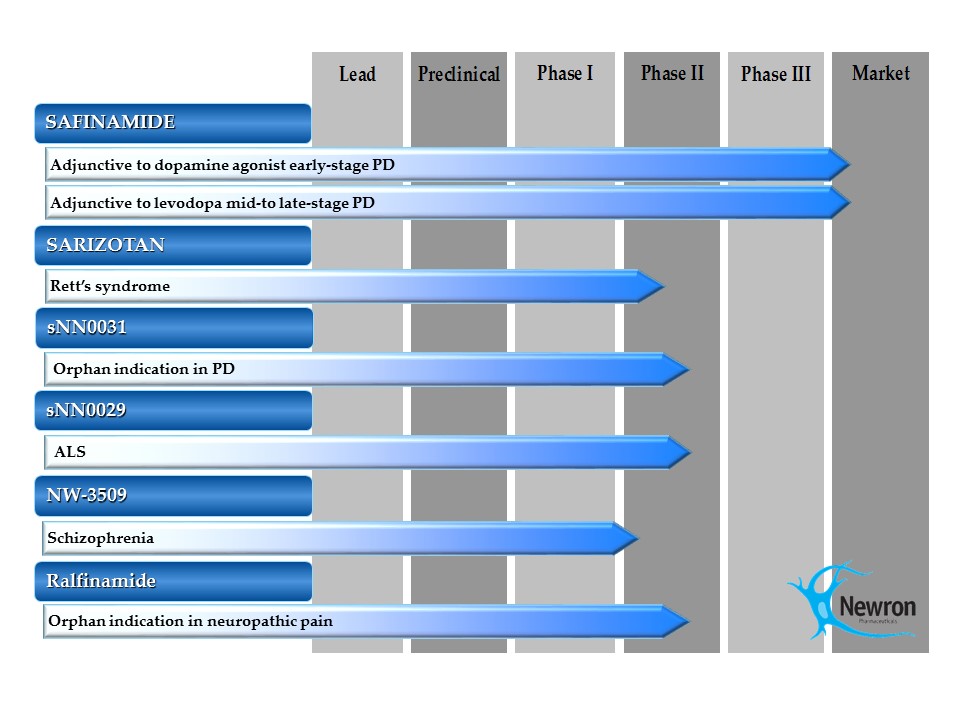 The company priority seems to be on NW-3509, an add-on therapy for schizophrenia, for which Newron plans to start a Phase II study in Q3 2015. NW-3509 modulates neuronal hyper-excitability and has shown activity in vivo in a broad range of psychosis, mania, anxiety, cognition and depression animal models. NW-3509, acting by a different mechanism from current antipsychotics, has not only the potential to address unmet medical needs regarding schizophrenia, but also to treat Bipolar Disorders without inducing sedation. On 15th January 2015, Newron announced the completion of the first in man US Phase I study. NW-3509 was well-tolerated at all doses.
The flagship compound of Newron is Xadago (safinamide). Safinamide is a Parkinson disease add-on therapy to both dopamine agonists and levodopa, the current therapies. Safinamide is a unique molecule with a novel mode of action, targeting both dopaminergic and glutaminergic systems, and potentially provides motor symptom control. This is the first New Chemical Entity (NCE) in 10 years to receive a Marketing Authorization from the EU Commission for the treatment of Parkinson's disease.
In July, Newron received a refusal to file letter from the US FDA for the use of Xadago as add-on therapy for patients with Parkinson's disease. The refusal letter did not relate to the acceptability of the clinical data, and no judgment was made on the efficacy or safety of Xadago. Newron has since then worked to resolve the problems concerning the application of Xadago and has resubmitted the New Drug Application (NDA) to the FDA in December 2014, and is still currently under FDA review for marketing authorization.
Judging from the development of the company and the potential of its portfolio, Newron has a good chance of becoming a heavy player in the Neurological market. The stock market seems to confirm this, and so do the figures of last year's stock evolution of Newron.