Novartis already owns 33% of Roche, but even if both companies are headquartered in the same city of Basel (Switzerland), they still have no plans to merge.
Joerg Reinhardt, The Chairman of Novartis – the second biggest Pharma company worldwide by market cap (€212Bn – J&J: €231Bn), was asked about it on the Swiss TV Bilanz Business Talk.
 On paper, you can generate a lot of value, that is true." He said.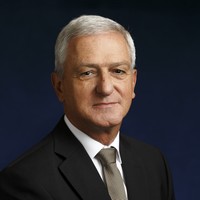 But it makes more sense to him to stay independent. It increases the competition, even if the offices are only located a few kilometers away.
Let's say it's more of an artificial competition between two biotechs than a real one, just enough to create a sensation of company identity and belonging. However, the perceived competition is more founded for employees, partners and providers outside Switzerland, who continue to see Roche and Novartis as two entirely different biotech companies.
The research and business strategies of both also differ. While Roche the N°1 in cancer treatments for the world, Novartis has only recently begun to move into the Oncology field, acquiring GSK's portfolio earlier this year to boost sales.
Their strategies also differ on the acquisition side of things. On one hand, Roche has made massive takeovers in the past few years with Genentech, Foundation Medicine and MTM Laboratories. However, Novartis' philosophy is "to grow organically" – meaning they prefer to focus on smaller acquisitions. Whilst smaller purchases are "essential for growth, large transactions carry great risks", explains Reinhardt. This is evident in the tentative approach Novartis has taken to the Israeli biotech scene, having only made small investments in stem-cell specialists Gamida Cell and the drug-incubator BiolineRX from the Jerusalem area.
So Novartis will not buy more of Roche's shares, but it could certainly think of selling some (these 33% are probably worth a fair few billion given the companies' €8.7Bn profit in 2014).