Nordic Nanovector is collaborating with Heidelberg Pharma to access the promising antibody-drug conjugate (ADC) technology. However, can it really take on the strong competition?
Nordic Nanovector develops antibody-radionuclide conjugates (ARCs) to treat Non-Hodgkin Lymphoma (NHL) and other blood cancers. Today, the company has announced a collaboration with Wilex' subsidiary Heidelberg Pharma to incorporate antibody-drug conjugates (ADCs) for leukemia in its pipeline.
The ARC and ADC technologies are similar: a tumor-specific antibody is chemically linked to a molecule that kills the target cell. However, ADCs seem to be way more popular, presumably because they're effective against a wider range of tumors than ARCs. The main difference is that ARCs are linked to a molecule that emits beta radiation, whereas ADCs carry a toxin that interacts with intracellular molecules.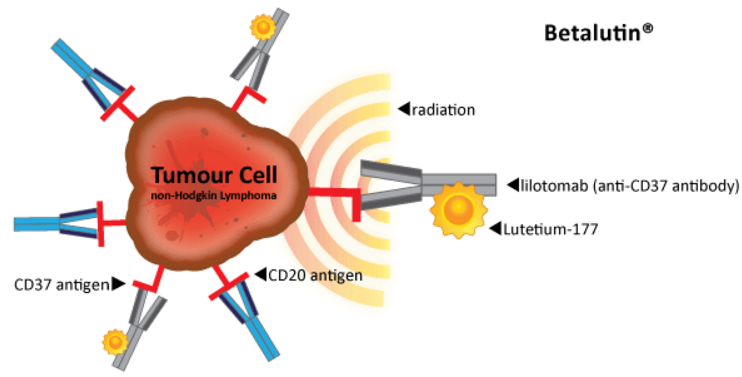 Nordic Nanovector's lead ARC candidate, Betalutin (lilotomab), is proving safe and effective in Phase I/II trials for NHL. With this move into the more popular ADCs, the company plans to sum the leukemia market, which is expected to reach over €5B by 2020, to its current NHL market, which will amount to €11B by 2018.
This collaboration will help Nordic Nanovector step up its game and start competing with the big players: Roche, Novartis, Eli Lilly and Pfizer already have ADC candidates in their pipelines. ADC Therapeutics recently received the highest funding round of the year in Europe to advance its ADC candidates for lymphoma and leukemia. For its part, Boehringer-Ingelheim has partnered with Oxford BioTherapeutics to develop ADC candidates for leukemia.
According to Nordic Nanovector, the company's expertise in antibody manufacturing will allow fast and low-cost development of its ADCs. This can be a huge advantage in the long term, but ADC Therapeutics is already ahead with Phase I trials and the Swiss company has been mustering expertise in ADCs for 5 years now. Unless Nordic Nanovector has an ace up its sleeve, its rise to the top will be hard.
---
Featured image: Urfin/shutterstock.com
Image 1 courtesy of Nordic Nanovector
---