Belgian Celyad is giving Novartis access to its IP for the production of allogeneic CAR-T cells in a non-exclusive license agreement, worth up to €88M.
Celyad is developing "off-the-shelf" therapies, based on engineering donor-derived allogeneic T cells. Despite a recent public dispute with its key rival Cellectis regarding the validity of Celyad's US patents, Novartis has now entered a non-exclusive license agreement involving the biotech's patents, which could reach a total sum of $96M (€88M).
The new agreement includes Celyad's IP on allogeneic human T cells that are engineered to be T cell Receptor (TCR) deficient and express a Chimeric Antigen Receptor (CAR). The patent is not limited to specific CARs or specific methods of generating allogeneic CAR T cells, such as genome editing or genetic engineering.
While Novartis' lead T cell product CTL019 is an autologous CAR-T therapy, which involves engineering the patient's own cells, the new agreement is related to two new products currently under development by Novartis. Should these therapies reach the market, Celyad will also draw undisclosed royalties based on the net sales of the products.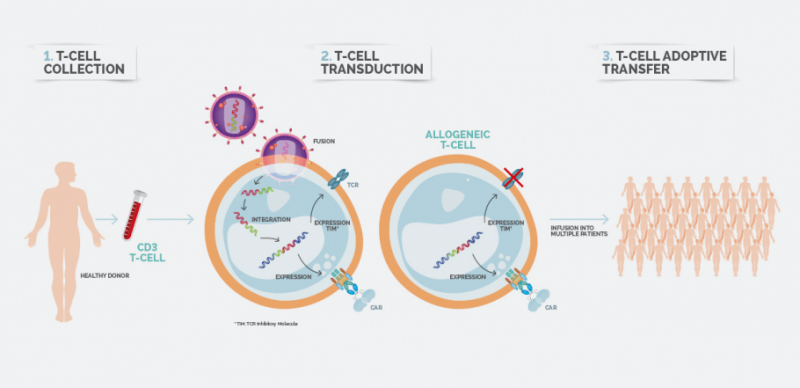 By using T cells derived from a healthy donor, allogeneic CAR-T therapy is thought to be more cost- and time-effective, allowing for off-the-shelf available T cells – but this approach also comes with higher risks of immunogenicity.
Regarding the off-the-shelf availability, Celyad's CEO Christian Homsy told us that this is still a "scientifically challenging avenue." He commented, "there are still some significant scientific challenges with regards to immunology, as well as manufacturing, transportation, traceability and banking solutions necessary to reach the scale needed for widespread patient treatment."
Celyad itself is still in preclinical development of its allogeneic therapies, but its competitor Cellectis recently received FDA approval to start clinical trials with UCART123, making it the first study for allogeneic CAR-T in humans.
The new licensing agreement points to a broader interest in allogeneic CAR-T therapies coming from big players like Novartis. It looks like Celyad and Cellectis, who have been occupying the niche, have to prepare for more competition in the field, although Celyad should be in a good position, since the company boasts a major patent of interest to pharma.
Images via shutterstock.com / fusebulb and Celyad.com