Novartis is poised to kick off the next generation of multiple sclerosis treatments after siponimod performs well in Phase III. The company's primary competitor had been Biogen, but its drug's failure in Phase II leaves siponimod the last man standing.
Novartis reports that its multiple sclerosis (MS) drug, siponimod, has reached its primary endpoint in Phase III trials. The study was the largest randomised, controlled study of treatments for secondary progressive MS (SPMS). This variant is marked by a steady worsening towards disability with or without the flare-ups characteristic of the most common form of MS. Current efforts are focused on finding a means to delay its progression.
Siponimod, or BAF312, is a small-molecule modulator of the sphingosine-1-phosphate receptor (S1PR), found on lymphocytes. This inhibits the cells from traveling to sites of inflammation caused by T cells crossing the blood-brain barrier. So far, siponimod has demonstrated improved selectivity over fingolimod, the archetypical S1PR inhibitor; consequently, siponimod may have an improved side effect profile (decreased incidence of lymphonemia).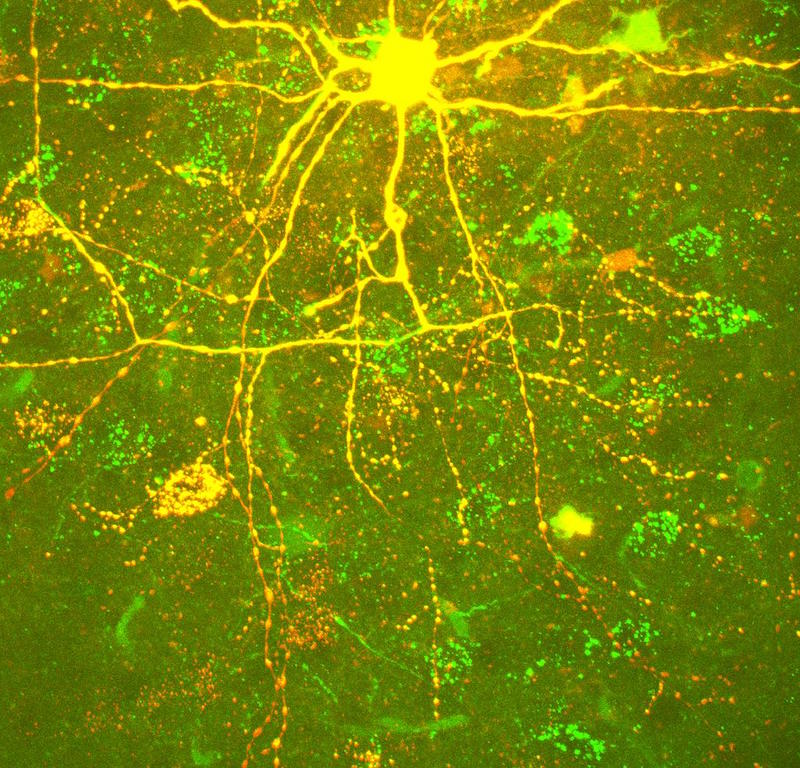 Novartis had been competing with Biogen to bring an effective treatment for SPMS to market, but despite promising early results, Biogen's opicinumab failed in Phase II trials earlier this year. The company was less than forthcoming about the details, but its drug was reported to have more serious side effects than Avonex (interferon beta-1a). Sanofi was also in the race, but its horse proved even less safe than that of Biogen. A win for Novartis looks promising.
Update: Novartis is reporting positive results in Phase III, that BAF312 is demonstrating reduced the risk of disability progression over 3 months by 21%, and an even greater reduction over 6 months. 
---
Featured Image: Mouse neurons (CC2.0, NICHD/Flickr)
Figure 1: merge_max (CC2.0, mark Miller/Flickr)
---