A blood test for anti-cancer antibodies, developed by the UK diagnostics company Oncimmune, detected more early cases of lung cancer than standard clinical monitoring procedures in a trial with more than 12,000 patients.
Oncimmune's trial recruited 12,209 patients with a high risk of developing lung cancer through smoking and family history, and monitored them for two years. The control group underwent standard clinical monitoring. The other group was given Oncimmune's blood test EarlyCDT Lung, and those flagged as high risk on the test were given follow-up CT scans. 
Of those who developed lung cancer in the study, Oncimmune's test detected 41.1% of people with the condition when the cancer was still at an early stage, whereas just 26.8% were detected early in the control group. Patients given the EarlyCDT test also had lower death rates than patients with current treatments, though this was not statistically significant.
"These landmark findings are likely to have globally significant implications for the early detection of lung cancer by showing how a simple blood test, followed by CT scans, is able to increase the number of patients diagnosed at an earlier stage of the disease, when surgery is still possible and prospects for survival much higher," stated Frank Sullivan, Professor of Primary Care Medicine at the University of St. Andrews, the Chief Investigator for the trial.
Lung cancer is one of the deadliest cancers, and is mostly caused by smoking. Just 5% of people diagnosed with late-stage lung cancer survive for more than five years. If the cancer is detected at an early stage, however, the survival rate is 56%, making early detection crucial. To improve the early detection of lung cancer, Oncimmune's blood test EarlyCDT Lung detects the presence of anti-lung cancer antibodies in the patient's blood, a sign that the body is already fighting the tumor.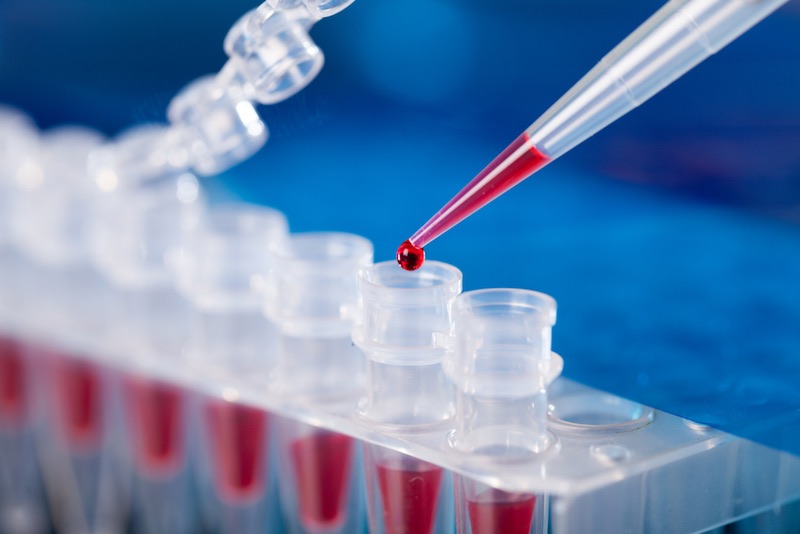 To confirm that the test can reduce mortality in these high-risk people, Oncimmune now expects to start an even bigger trial, recruiting an impressive 200,000 patients, though did not disclose when it plans to launch the trial.
Currently, CT scans can help to detect lung cancer early. However, the scans are expensive, expose people to high levels of radiation, and can often mistake benign growths for malignant cancer. Oncimmune's test could reduce the need for CT scans by identifying patients with the highest risk of lung cancer, allowing a follow up with CT scans.
Investors have reacted positively to the news, with Oncimmune's stock price rising by 10% since Thursday last week. 
While promising for the treatment of lung cancer, more research is still needed to figure out the best way to implement Oncimmune's blood test into clinical practice. The biotech commentator David Grainger, Partner at the life sciences venture capital firm Medicxi, expressed this view on Twitter this morning. "Before widespread adoption, it's important not only to look at the benefits (earlier diagnosis, reduced morbidity and mortality) but also the harms (anxiety, over-treatment burden) and ensure the balance is firmly in favour of benefit." 
Liquid biopsy tests such as from blood provide a cheap and relatively non-invasive way to flag patients at high risk of developing cancer. The Swedish biotech Elypta is also developing a blood and urine test that is an accurate test for renal cell carcinoma. The UK company Angle is also a specialist in liquid biopsy diagnostics, developing a test that detects cancer cells floating around the patient's bloodstream.
---
Images from Shutterstock