OSE Immunotherapeutics has teamed up with Selexis in a new license agreement to support the development of its IL-7 antagonist for the treatment of IBD.
In the end of last year, French OSE Immunotherapeutics joined forces with Servier to develop and commercialize its interleukin-7 antagonist (Effi-7) in a deal that could earn the biotech up to €272M. Effi-2 is still in preclinical development and Servier is set to take over after completion of Phase II trials. Now, OSE inked a new deal with Swiss Selexis, which will allow the company to tap Selexis' SUREtechnology for the production of Effi-7 to advance the clinical development of its candidate.
OSE's IBD candidate is an immunomodulatory monoclonal antibody that targets the IL-7 receptor expressed on the surface of T cells. This allows keeping the pathogenic T cells involved in autoimmunity at bay. Preclinical models have shown that the antibody can effectively restore the impaired immune balance in autoimmune diseases of the bowel such as ulcerative colitis.
The new deal with Selexis builds upon a previous collaboration of the companies involving two of OSE's preclinical candidates. "We are pleased to advance our collaboration with Selexis with the initiation of a key step for our immunotherapy OSE-127 towards the clinical stage and its development in ulcerative colitis," said Dominique Costantini, CEO of OSE Immunotherapeutics.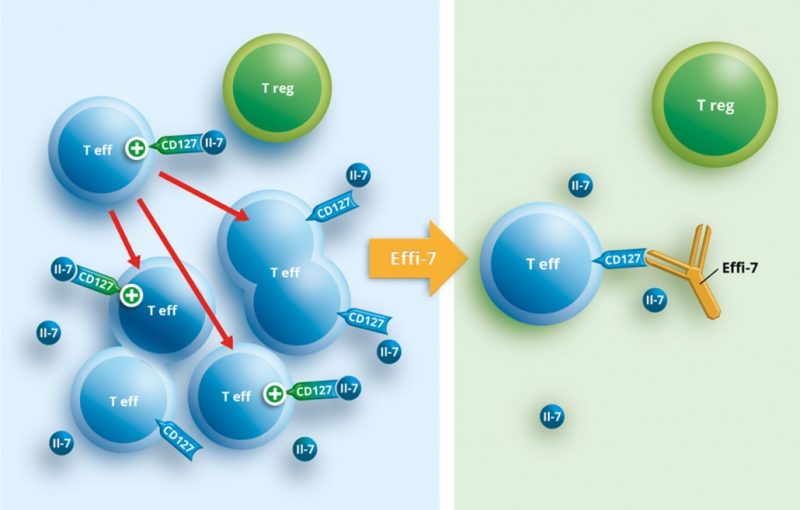 If all goes well, OSE's Effi-7 could hit an IBD market that is expected to reach almost $10B by 2020. Still, the company will have to face a number of competing players in the space, such as Galapagos, which recently started Phase IIb/III trials in ulcerative colitis or Johnson & Johnson, whose infliximab is already dominating the market. Meanwhile, some leaders in the microbiome field like Enterome and Seres Therapeutics are trying to tackle IBD by targeting the gut bacteria.
But Effi-7 is not the only promising candidate in the OSE's portfolio. The biotech is already in Phase III trials with its cancer vaccine Tedopi that is expected to reach the market in 2019 for the treatment of NSCLC. The company also recently raked in a €155M deal with Johnson & Johnson for its CD28-antagonist that is being developed for the treatment of autoimmune diseases and transplantations. It definitely seems like big pharma has confidence in the French biotech's pipeline, which indeed covers a diverse range of diseases.
To hear more about this promising biotech, have a look at out interview with OSE's CEO Dominique Costantini here.