Choroideremia is a rare X-linked recessive retinal disease which eventually leads to blindness. A series B funding round has landed the NightstaRx ('Nightstar') biotech in Oxford an additional $35M for their vision-improving gene therapy.
Since the mutation causing Choroideremia is sex-linked, sufferers are almost always males, with the onset of symptoms in childhood often starting with night-blindness. The CHM gene is responsible for encoding the Rab-escort protein 1 in retinal cells, a mutant version of which is responsible for vision deterioration. You can read more about this rare disease through the Choroideremia Research Foundation.
Developed at Oxford's Nuffield Lab of Ophthalmology in the UK by Robert MacLaren, Nightstar has a gene therapy which uses an adeno-associated retroviral vector (AAV). This vector delivers a wild-type of the defective gene (CHM) into the retinal cells of the patient, to produce functional REP proteins and partially restore vision.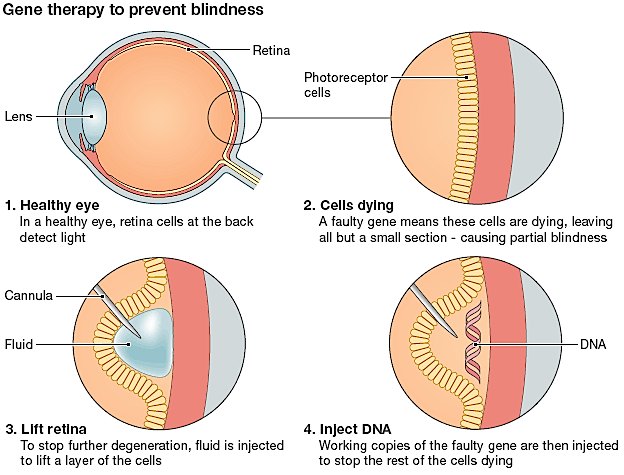 The phase I/II clinical trial results were published in the Lancet last January, and have shown this rAAV-REP-1 therapy to have promising results. It was shown to reduce the onset of vision blurring and premature blindness in sufferers of Choroideremia.
Although the trial only addressed 6 adult males (between the ages of 35-62) who had already suffered extensive retinal detachment, the results in sight-tests showed the recovery of detection of certain lines and characters shown to the patients, which were previously invisible. As MacLaren explains, the aim is to develop the therapy for younger patients:
If we were able to treat people early, get them in their teens or late childhood, we'd be getting the virus in before their vision is lost"
There is an impressive financial and academic syndicate backing Nightstar's progress, with Isis Innovation (a commercial subsidiary of the University of Oxford) and Syncona (an independent subsidiary of the Wellcome Trust). In addition, they have the tenure of MacLaren and the Nuffield resources at Oxford backing their research.
Other supporters include the NIHR Oxford Biomedical Research Centre and the charity Fight for Sight, the main UK charity that funds pioneering eye research to prevent sight loss and treat eye disease.

Evidently, the global VC firm New Enterprise Associates was attracted by such a solid package, leading this series B fundraising round to amass €32.6M in support for Nightstar's pipeline. NEA's David Mott has therefore joined the Nightstar board, which will continue to be chaired by founding investor Syncona's Chris Hollowood.
So, despite Choroideremia only having an incidence of 1 in 50,000, NightstarX is getting a lot of high-end attention for its therapeutic pipelines.
---
Robert MacLaren Interviewed on their Gene Therapy Research at the University of Oxford