Phesi, a global provider of patient-centric data analytics, has released the results of its global analysis of all clinical trials conducted in 2022. The report, which analyzed 80,917 trial records, reveals that breast cancer retained its position as the most-studied disease area, followed by COVID-19. 
Three of the top five most-studied disease areas fell within oncology, with prostate cancer the third most-studied disease, solid tumors fourth, and stroke fifth. 
Both prostate cancer and stroke enter the top five in 2022, replacing non-small cell lung cancer and multiple myeloma in the 2021 list.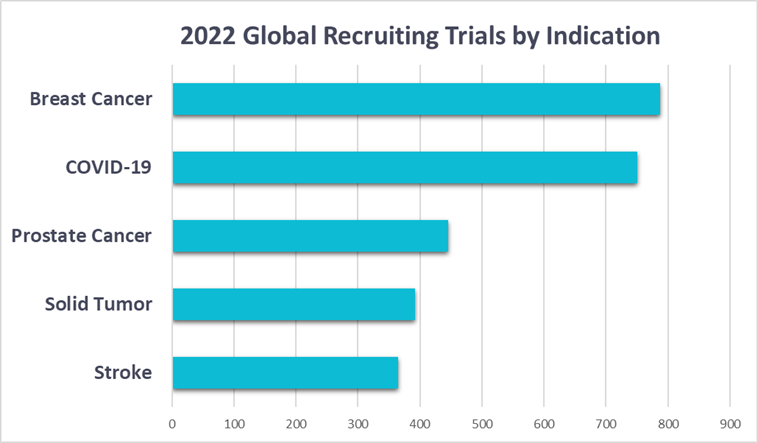 "Oncology remains an area of high investment in clinical development, however, 2022 has seen a widespread scale back of overall activity. The reduction of recruiting trials in the top most-studied disease indications is due to several global factors including the pandemic and the war in Ukraine," said Gen Li, president of Phesi. 
"With an increase in available vaccines and therapies, it is not surprising that the number of recruiting trials for COVID-19 therapies has fallen. However, the reduction in breast cancer trials is unexpected, with 113 fewer recruiting trials in 2022 compared with 2021. This demonstrates the pressures facing the clinical development industry as the consequences from several years of disruption become visible."
Phase II terminations rise according to Phesi analysis
The analysis also revealed an increase in phase II terminations. In 2022, the attrition rate for Phase II clinical trials was 28% – 42% higher than the previous five-year average (Fig 2). This is the highest proportion of terminations at phase II in recent years and is even higher than in 2020, where the COVID-19 pandemic caused unprecedented disruption.
These high levels of attrition at phase II are likely to have an ongoing effect on the clinical development industry and may slow the rate at which new therapies reach market, or even prevent viable new therapies from ever reaching patients.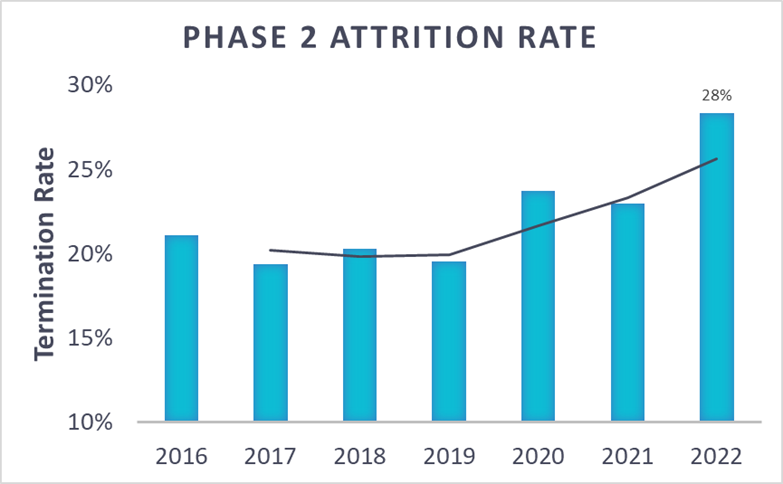 "As we enter the fourth year of pandemic, the industry has more tools to mitigate its impact, but signs of damage continue to emerge. Clinical trial design must follow a more data-led, patient-centric approach to minimize protocol amendments and terminations, and ensure successful study outcomes," Li said.
"Applying predictive analytics in protocol design, simulating trials, and using digital patient profiles will accelerate clinical development to get therapies to patients faster. Indication-specific predictive modeling will streamline trial design and improve identification of patient populations and site selection, by providing detailed information on historical trial performance at a country and/or investigator level. With these data, sponsors can model trials to reduce amendments and unnecessary termination."
Phesi uses the world's largest clinical trial database to simulate clinical development and improve decision making. With AI-driven solutions for trial simulation, patient profiling, protocol design and digital control arms available to support life sciences companies in accelerating drug development and commercialization.