Pili is leaving its bio-hacking nest in Paris for the industrial facilities of TWB, Toulouse's preindustrial demonstrator for industrial Biotech. It will be able to develop pilot-scale production of its first dye – blue…

Pili is one of the examples of Biotech innovation coming out of biohacking spaces. The start-up started at La Paillasse (Paris) and went on to become a graduate of IndieBio's synbio incubator program. Its founder (Thomas Ladrain) was also present at Labiotech Refresh to add his insight to the SynBio panel.
After the initial development of a process to make ink out of microorganisms, Pili is now giving an important step towards commercialization. It's moving to the facilities of Toulouse White Biotechnology (TWB),  an institution managed by the French National Institute for Agricultural Research (INRA).

In this way, Pili will be able to develop the pilot scale of its dye manufacturing, using a 300 L bioreactor. Scale-up is a challenging step for industrial Biotechs and Landrain commented that moving to the pre-industrial stage was feasible only in association with specialised partners.
At TWB, Pili will be able to benefit from its laboratories and process equipment, as well as a network of expertise in synthetic biology, fermentation, and analytical chemistry.
The start-up seems confident with this move. It is already negotiating with several industrial partners in the ink, textile and cosmetic industries. In such large markets, Pili's dyes can offer a renewable and biodegradable alternative to the current options – largely based in petrochemicals and agro-industry.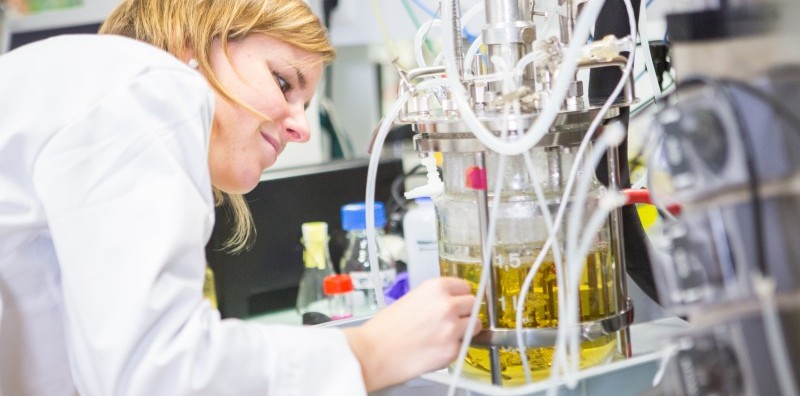 Should the pre-industrial development go well, Pili could be selling its first the within the next 3 years. As for color choice, the inaugural product will be blue – but we still have to wait for the exact Pantone code.
Pili is not the first to choose TWB for this kind of step. This incubator of industrial processes is  home to projects like EnobraQ (which wants to use CO2 as a raw material) and Amoéba, which is developing amoebas as a living biocide.
---
Check Pili's teaser of ink 'growing'…
---
Feature Image Credit: Pili
---