An electronic chip from French company Pixium Vision, inserted behind the retina to treat age-related macular degeneration, has shown excellent results in a small clinical trial.
The five patients in the feasibility study suffered from dry age-related macular degeneration, the most common cause of visual impairment in people over 65 in Europe. In this incurable condition, the light-sensitive cells of the retina start to degenerate, leading to loss of central vision, which is essential for visual acuity in tasks like reading and driving.
Pixium's solution is to implant a light-sensitive chip behind the retina, replacing the dying light-sensitive cells of the retina. A wearable camera and special augmented reality glasses then project near-infrared light onto the retinal implant, powering it to send visual information to the brain.
Pixium's approach requires a two-hour operation and the implant is powered wirelessly. This is a major improvement on many other implant systems, which often require over six hours of surgery and need to be powered with implanted wires.
Other implants also often lie in front of the retina and stimulate cells leading to the optic nerve, bypassing the information-processing cells in the retina. Implanted behind the retina, Pixium's implant is designed to harness the retinal cells that process visual information, not bypass them.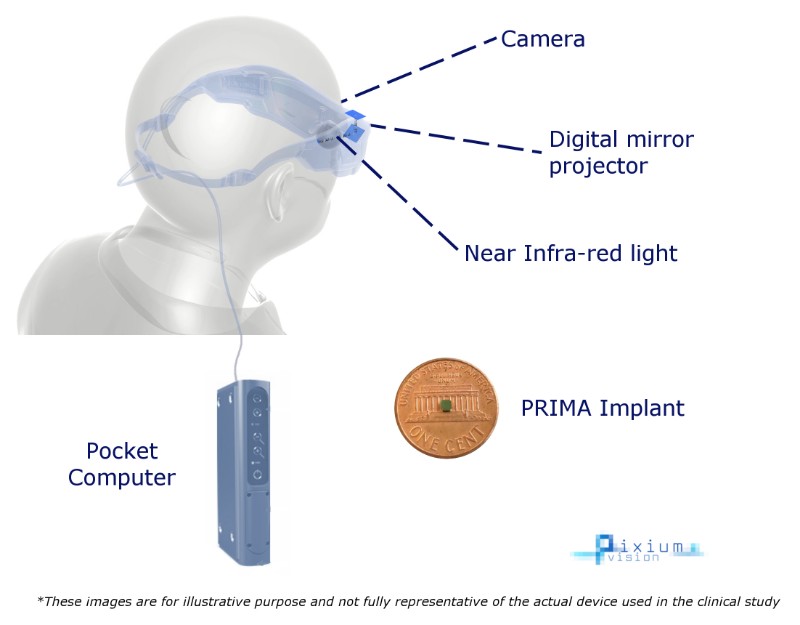 "The hypothesis is that the best outcomes would come from mimicking the natural visual processing of the healthy retina," explained Khalid Ishaque, CEO of Pixium. "Now we see that we have beaten the visual acuity measures so far published by all these wired, cabled, longer surgeries."
Interim tests, carried out six months after the implant was surgically inserted under the retina, found that patients with the condition could detect light in their central visual field, and most could detect patterns and letters, beating Pixium's expectations. The device has also shown no serious adverse events in any of the patients until now.
A larger European pivotal study in around 50 patients is the next step for Pixium. By 2022, the company aims to receive a CE mark, which is required to commercialize the technology.
"It is a very exciting time for retinal implant technology. The future is bright!" enthused Ishaque.
Other companies also developing bionic and wearable tech to restore sight include the German company Retinal Implant and US company Second Sight, who are developing technology to treat retinitis pigmentosa.
Another French company, Gensight, is developing a gene therapy that makes specific nerve cells sensitive to light in the retina, and uses wearable goggles to stimulate them. It is currently running a clinical trial of this tech in patients with retinitis pigmentosa and plans to test it in dry age-related macular degeneration.  
---
Images from Shutterstock and Pixium Vision