BMS is offering PsiOxus Therapeutics a massive deal to get exclusive rights of an oncolytic virus that could outperform the promising CAR-T therapies.
PsiOxus Therapeutics, based in Oxford, develops immuno-oncolytic viruses to treat solid tumors. Its technology attracted a partnership with Bristol-Myers Squibb earlier this year, which is now offering the British biotech an impressive €850M ($886M) deal for the exclusive worldwide rights of NG-348, a next-generation oncolytic virus.
BMS will pay PsiOxus €47.7M ($50M) upfront and funding for the preclinical development of NG-348. The rest will come in the form of milestones to be paid as the candidate advances through clinical trials.
So what is this technology that has managed to attract such a big deal with a top-level partner despite still being in the pre-clinical stage? PsiOxus' platform, Tumor-Specific Immuno-Gene Therapy (T-Sign), uses a viral vector to deliver anti-cancer therapeutic transgenes to tumoral cells. In particular, NG-348 encodes the gene for Membrane-integrated T-Cell Engagers (MiTEs), T-cell activating ligands located on the cell surface.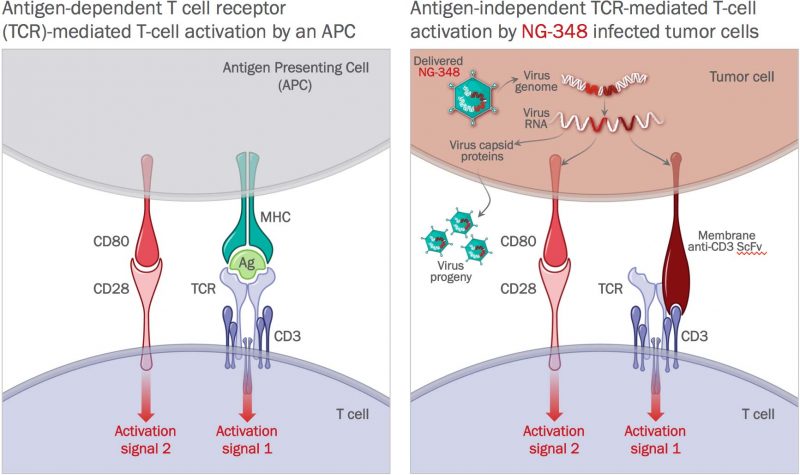 With a mechanism of action similar to that of CAR-T therapies, the company claims that NG-348 could outperform them by providing an off the shelf product that does not require the selection of a specific tumor antigen. In addition, the treatment is directed at solid tumors, which are still a big challenge for most immuno-oncology strategies.
PsiOxus, however, is not the first biotech developing oncolytic viruses: young companies like Targovax in Oslo or TILT Biotherapeutics in Finland are developing their own viral strategies to fight cancer. Earlier this year, Boehringer Ingelheim was also seduced by the possibilities of these type of therapy and established a collaboration with ViraTherapeutics, in Austria, which seems to be one of the most advanced companies in the field.
Although the risk is big for a project in such an early stage, if the candidate proves to be as good as it claims the deal would definitely be worth the big sum BMS has offered PsiOxus.
---
Images by xsense/shutterstock.com; PsiOxus
---