RedHill Biopharma has obtained positive Phase III results for its Crohn's disease treatment, which targets a certain type of gut bacteria.
Crohn's disease is a type of inflammatory bowel disease, characterized by acute flare-ups and periods of symptom-free remission, that can affect any part of the gastrointestinal tract. It has a high prevalence for an autoimmune disease, affecting up to 12 in every 100,000 people in Europe. 
RedHill's treatment approach is based on evidence that the presence of a bacterium called Mycobacterium avium ssp. paratuberculosis could be the underlying cause of Crohn's disease. Their drug, RHB-104, is a combination of the antibiotics clarithromycin, rifabutin, and clofazimine, designed to eradicate the gut bacterium.
The Phase III trial enrolled 331 patients with moderate to severe active Crohn's disease. Results showed that, 26 weeks after starting treatment, more patients became symptom-free when treated with RHB-104 than when given a placebo. This was still true 52 weeks after starting treatment, with 27% of patients treated with RHB-104 entering remission, compared to 20% of patients who were given a placebo.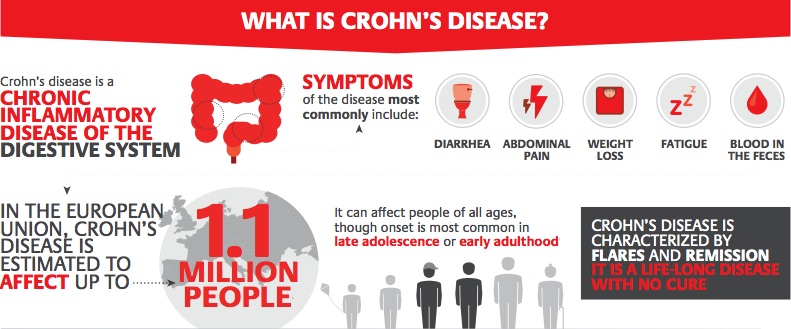 Biotechs are increasingly turning to gut bacteria to find treatments for Crohn's disease. For example, the French biotech Enterome is developing a small molecule drug that prevents bacteria in the gut from releasing inflammation-causing molecules. 
While the exact cause of Crohn's disease is unknown, most other drugs for Crohn's disease, such as AbbVie's Humira, target autoimmune responses. Several studies have linked M. avium ssp. paratuberculosis to Crohn's disease. However, because Crohn's is an autoimmune disorder, it is likely to be caused by a number of factors, which can make it more difficult to develop effective treatments. In addition, with the importance of the gut microbiome in regulating human health becoming ever more evident, it is important to consider possible side effects of using antibiotics. While RedHill's antibiotic combination is designed to target a specific bacterium, it is possible that the treatment may be negatively affecting the gut microbiome in other, as yet unknown, ways. 
---
Images by CLIPAREA l Custom media/Shutterstock