Founded in just 2013 by German Proteros and the US Atlas Ventures, Rodin Therapeutics is working epigenetics into discovery of novel therapies for Neurological diseases. Now they have hooked one of the largest players in the field, Biogen, into a €446M partnership.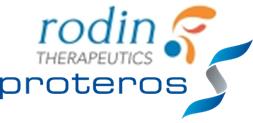 Since its inception within Atlas Venture's company-creating seed program in March 2013, Rodin (based in Massachusetts) has advanced its internal pipeline of epigenetic modulators and obtained an exclusive license to an additional chemical series discovered at the Broad Institute of MIT & Harvard.
By applying knowledge and research into epigenetics, Rodin is now working on neurological diseases, such as Alzheimer's disease. You can also read our review on 2015's major developments in the Neurodegenerative disease field.
Rodin and Biogen have now entered into a multi-year research collaboration, in addition to Rodin's already existing collaborations with the co-founding structure-accelerated lead discovery partner Proteros Biostructures, and then the Alzheimer's Drug Discovery Foundation.
Indeed, only a few months ago it was announced that Biogen was the latest 'big player' to join the pan-European Dementia Discovery Fund alongside titans such as the WHO. So the resources at certainly at hand, particularly with Biogen's clout in the industry as the neurodegenerative disease network draws ranks.

As part of the research collaboration between the two companies, Biogen will therefore have the option to acquire Rodin at certain pre-defined milestones at pre-negotiated terms, including total upfront and milestone payments of up to $485M (€447M).
Atlas Venture is a VC with access to many sources of academic and industry research, operating in a new hybrid investment and Co-founding business model. Recent publications in leading scientific journals also support the hypothesis that epigenetic mechanisms underlying synaptic plasticity may have a therapeutic benefit.
Rodin's drug candidates also have the potential to treat other conditions, including Parkinson's disease, cognitive impairment in schizophrenia, and post-traumatic stress disorder (PTSD), and the company plans to continue pre-clinical research to explore potential application in these areas.
So this is the next move by Biogen in the Neurodegenerative disease field: Investment into Rodin Therapeutics HDAC inhibitor pipeline. It will be interesting to see where this funding will propel this promising network of Epigenetic-focused Biotechs.
---
Feature Image Credit: Probiodrug / Open Source Remix