Sanofi Genzyme is offering Alnylam up to €93M ($100M) to co-develop and launch a revolutionary RNAi therapy for hemophilia. But is RNAi really such a good investment?  
Sanofi Genzyme signed a deal with Alnylam back in 2014 to develop RNAi therapies. Now, despite the general discouragement in RNAi technology, Sanofi has decided to go ahead and chip in up to €93M ($100M) to take part in the co-development and co-commercialization of fitusiran, a treatment for hemophilia. Alnylam recently released positive data from a Phase I study and plans to initiate Phase III in early 2017.
The new data seems to have encouraged Sanofi, which will pay Alnylam up to €70M ($75M) in milestones and 20% in sale royalties. If successful, the deal could be very profitable: the hemophilia market is expected to reach €14.2B by 2024.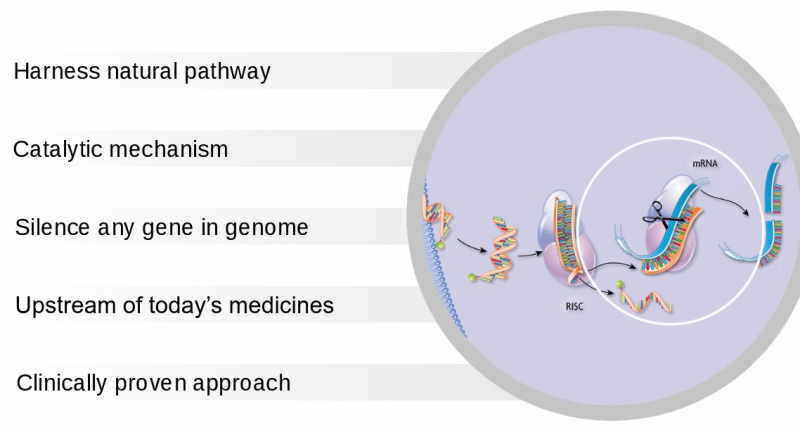 However, this could be a risky move for Sanofi; RNAi was hailed as a revolutionary approach for therapeutics when it won the Nobel Prize a decade ago. Although prices skyrocketed then, many companies in the field, including Alnylam itself, have faced failure. Big companies like Roche, Merck and Abbott had shut down their RNAi programs by 2011.
The RNAi field seems nevertheless to be experiencing a resurgence, led by Alnylam's lead candidate patisiran, currently in Phase III for the rare disease ATTR amyloidosis. The company's ambitious plan is to launch 3 RNA therapy products by 2020, supported by partnerships with Novartis, Roche, Takeda, Merck, Monsanto and Sanofi.
The story behind RNAi might remind some of the CRISPR revolution, which initially led to huge investments but is now slowing down since no clinical results are available yet and there's a fierce patent war. Will history repeat itself?
---
Featured image by Molekuul_be/shutterstock.com
Figure from Alnylam
---