Getting up from a wheelchair is a shared dream of paralyzed people all across the world. A dream that might soon become true thanks to a new skin-like implant that directly stimulates the patients' spinal cord through electric pulses.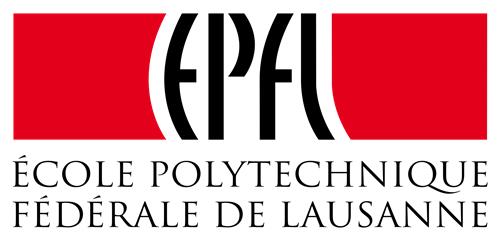 The sci-fi technology developed by researchers at École Polytechnique Fédérale of Lausanne (EPFL) in Switzerland has already been shown to restore movement in mice with spinal injuries.
However, the e-Dura implant is not a product from the X-men research facility but from the actual lab of Stéphanie P. Lacour, at the ÉPFL.
Professor Lacour manages the Laboratory for Soft Bioelectronics Interfaces which explores how to shape traditionally rigid electronic circuits into conformable, skin-like formats with the objective of improving biocompatibility, the bottle-neck of electronic prosthesis.
While stiff implants can rapidly damage the spinal cord due to friction, this new gadget is inspired by the characteristics of dura mater, the protecting skin of the nervous central system.


This way, e-Dura, or electronic dura mater, conserves its natural analog's flexibility, avoiding the undesirable inflammation or scar tissue even two months after its implantation in rats.
The implant is so stretchy thanks to its silicon-made electrodes that can be placed right onto the medulla delivering both, electric and chemical stimulation that activates the surrounding cells.
In a research project published by the journal Science, the implant helped paralyzed rats to walk again, an achievement that has been largely acclaimed in the scientific community.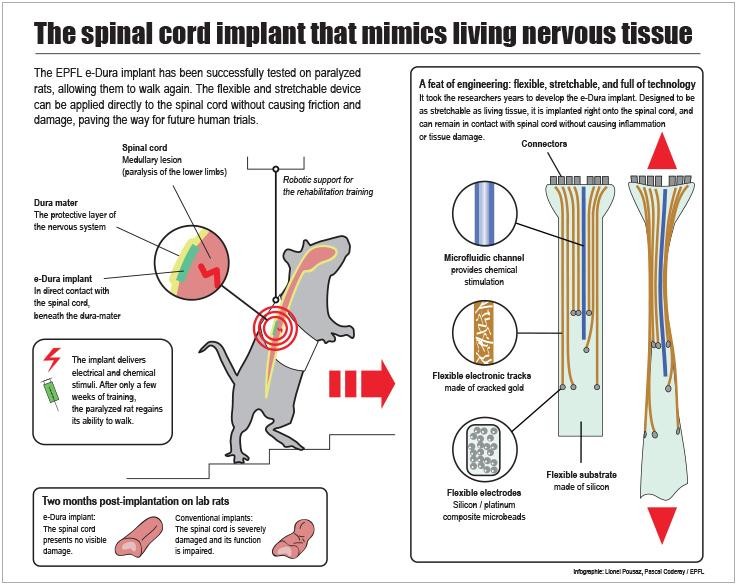 Dusko Ilic, Reader in Stem Cell Science at King's College London, published the following in an article in The Telegraph last year:
The work described here is a groundbreaking achievement of technology, which could open a door to a new era in treatment of neuronal damage"
Although having drastically reduced the risk of rejection, researchers still need to figure out how to wire the implants to the exterior to operate or, even more futuristically, to develop wireless neuroprosthesis.
With this in mind, Lacour looks optimistic and hopes to move towards clinical trials in humans. And perhaps one day the biblical quote "Get up! Pick up your mat and walk" might become a frequent statement at Trauma centers.
---
A video of how the implant works…
---
Feature Image Credit: The E-Dura implant (Credit:EPFL)
---