AstraZeneca's oncology pipeline takes a hit, as one of its Phase III trials failed to meet its primary endpoint. The program targeted advanced non-small lung cancer. It looks like it's up to immunotherapies now. 

Now struggling for a while, AstraZeneca has been refocusing on cancer and investing big in new candidates. The strategy hasn't yet turned AstraZeneca's luck around, as its half-year reports show its total revenues are down by 3% – really not good.
To make matters worse, it has now released that one of its advanced in lung cancer has failed. With 20 other clinical programs in Phase III on its oncology pipeline alone, it's not a huge chunk of the company that goes down (unlike in other cases of clinical failures). But it surely doesn't help.
The 'offending' program is a Phase III trial (SELECT-1) to evaluate the efficacy of selumetinib, a small molecule. The study enrolled 510 patients with advanced non-small cell lung cancer (NSCLC) and with a mutation in the KRAS gene. This mutation is associated with poor prognosis in NSCLC.
Selumetinib acts as an inhibitor of MEK 1/2, proteins that are critical components of a particular pathway – RAS-ERK. In turn, an active RAS-ERK pathway helps cancer growth and progression. For NSCLC, the therapy had previously obtained promising results in a Phase II trial (SELECT-2).
The drug is also being developed for differentiated thyroid cancer, having even received an Orphan Drug designation. This program will continue as planned, and it's now enrolling patients in a Phase III trial.
As for lung cancer, AstraZeneca's CMO (Sean Bohen) stated that AstraZeneca remains committed to developing new treatments, highlighting the ongoing work in immunotherapy combinations.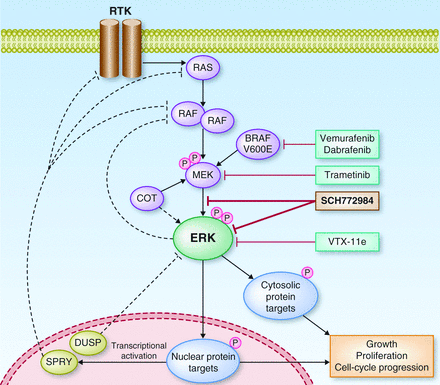 AstraZeneca's biologicals arm, MedImmune, does have durvalumab – an anti-PD-L1 therapy with good results. Besides numerous programs in other indications, it's being tested for NSCLC in Phase III trials both as a monotherapy and in combinations.
However, not everything is so sunny on MedImmune's side of business. Along with its financial results, the company also announced it was killing 6 programs. The cuts include small molecule programs for cardiometabolic diseases (such as NASH) and an antibody for asthma, but also several of MedImmune's new identities for solid tumors.
Even a durvalumab combination trial was tossed out. It seems that the strategic focus on oncology will also suffer, until the next batch of therapies gets the revenues back on top.
---
Feature Image Credit: Pixabay
Figure 1 Credit: Chan and Hughes (2014) Targeted therapy for non-small cell lung cancer: current standards and the promise of the future. Translational Lung Cancer Research (doi: 10.3978/j.issn.2218-6751.2014.05.01)
Figure 2 Credit: ERK Pathway Inhibitors: How Low Should We Go? Cancer Discovery (doi: 10.1158/2159-8290.CD-13-0245)
---