Analyzing your protein sample can be a right hassle. It takes time, energy and a LOT of nerves. Especially, when the experiment has not worked out the way one wanted it to. But there is a way around it, and this company has found the solution!
The use of protein biomarkers has become an essential part of research in areas like translational proteomics, drug development and diagnostics. Protein assays are a great part of everyday laboratory routines, and researchers take a lot of work upon themselves to identify, analyze and quantify the proteins in their samples.
Every scientist who has ever worked in a lab will now nod in agreement. We all remember those multiple steps in protein analysis, starting with their isolation and extraction from the sample, the tiresome filling of wells on a microtiter plate, or running gels and chromatographies, then the frustration when an experiment does not work out and having to start all over again.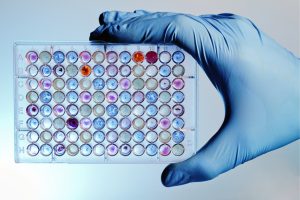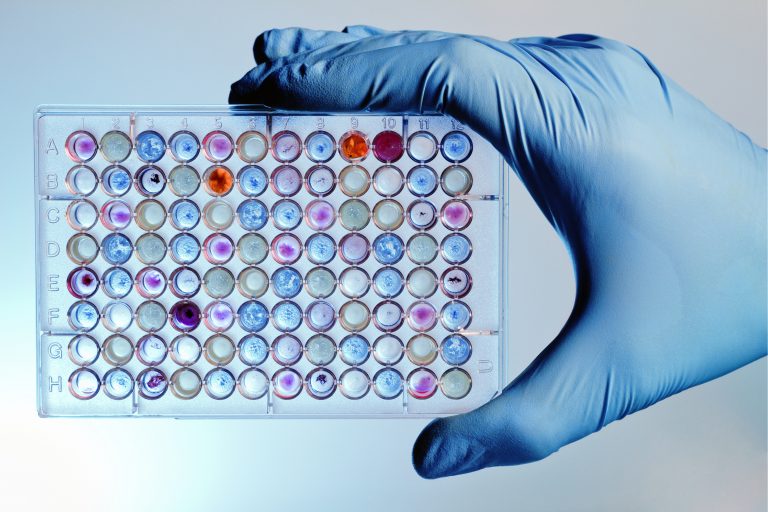 How to properly analyze your protein sample?
All of the above are reasons why researchers and companies alike are increasingly trying to automate laboratory processes. Not only do they save time and nerves, but also minimize the occurrence of mistakes and simplify the repeatability of experiments and data generation.
This September, the German biotech company AYOXXA has introduced its multiplexing protein analysis platform LUNARIS™. They have tackled the challenges researchers face when analysing proteins in the hope of standardizing laboratory workflows from protein sample to results with a system that can easily be integrated into any lab routine.
LUNARIS™ is actually not only a multiplexing protein analysis platform, but carries the full description 'low-volume beads-on-a-chip multiplexing protein analysis platform'. Sounds complicated right? Well, once you've understood the basics, it's an exciting approach that combines the advantages of bead-based multiplexing and the simplicity and scalability of a plate-based approach with image-based analysis. Let me take you through it, step by step.

Step by step
The LUNARIS™ BioChip basically looks like a classic microtiter plate but has been designed in a modular system allowing researchers to choose from 32 and 384 wells, adjusting the technology according to their experimental needs. This enables full scalability from low- to high-throughput applications.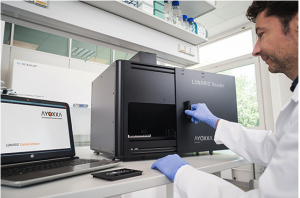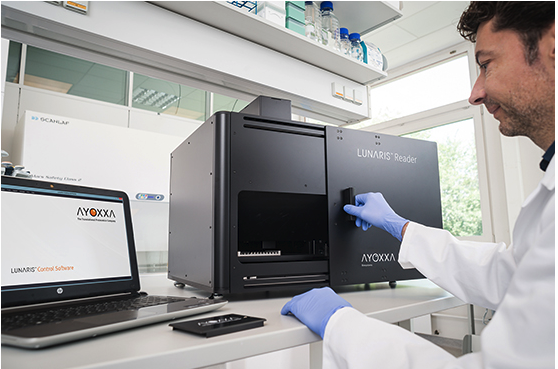 Unlike a traditional microtiter plate, however, this technology is actually a microarray-chip with a fully automated readout and analysis software. Located in the chip's microcavities are beads carrying highly specific antibodies against different target analytes, such as inflammation and immune response markers, which ensures highest assay sensitivity and specificity.
At AYOXXA's production site, the exact position of each bead is captured and a pattern is produced. This way users can track every bead and locate where specific signals are coming from. Additionally, the technology permits sample archiving for remote analysis by decoupling the experiment from the readout – an advantage that matches the needs of translational science.
LUNARIS™  BioChips can be run with sample volumes as low as 3µl, which is only 1/10 of the volume that comparable multiplex technologies are requiring. It enables multiplex protein analysis from valuable and scarce samples including vitreous and cerebrospinal fluids or fine needle biopsies, as well as many other body fluids, cell culture supernatant and tissue homogenates.
A sandwich principle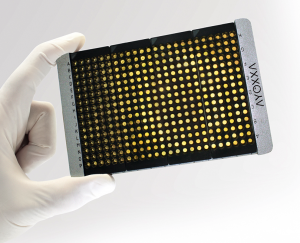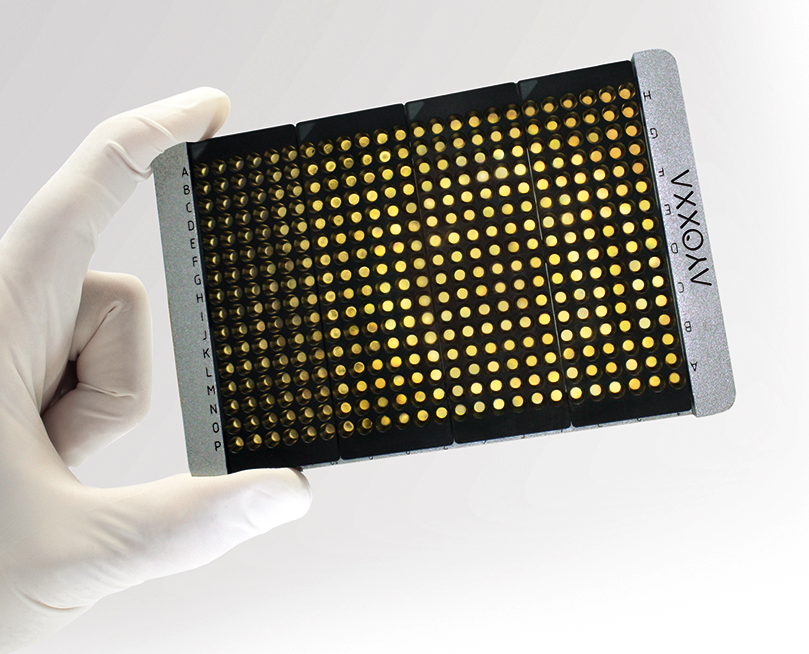 When a chip arrives in the lab, it is immediately ready to be used. What follows is based on the traditional sandwich immunoassay principle. The protein samples are pipetted into the wells, where they bind to their corresponding capture-antibodies on the beads. After the washing process, a detection-antibody-cocktail, which targets the protein is added to the wells. As a last step, fluorescent molecules are added and attach to the detection-antibody.
The dedicated AYOXXA reader captures and quantifies the fluorescent signals. Using AYOXXA's analysis software the specific bead pattern is decoded and the protein concentrations in the sample are determined. The software allows researchers to store their data easily, share it and insert it into reports or presentations.
The advantages?
The small sample volume needed for the protein assay, is a great advantage for the analysis of low volume patient samples, such as liquid biopsies in oncology or vitreal fluid in ophthalmology. In the field of ophthalmology, for instance, the company has been working closely with researchers from the Singapore Eye Research Institute (SERI), one of the leading centers in this field, analyzing ocular fluids to support biomarker validation, drug development and the monitoring of therapies.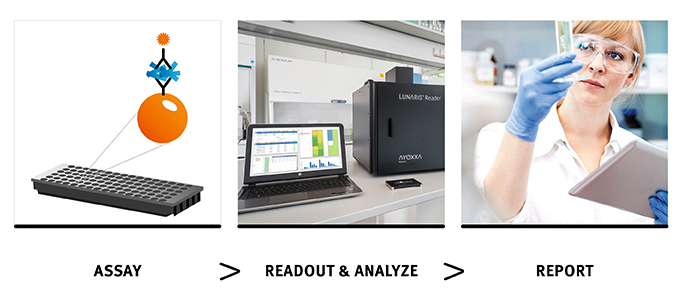 In addition, several binding assay types can be run with the help of LUNARIS™' bead technology including enzyme, hybridization, protein-protein, and DNA-protein assays.
"To fully enable scientific discovery in the rapidly expanding field of translational science, modern multiplex protein analysis technologies need to provide superior robustness and performance, in addition to being validated for a variety of clinically-relevant sample types," explains Wolfgang Kintzel, COO at AYOXXA. "LUNARIS™ was developed by AYOXXA to combine scalability, flexibility and market leading data quality using the best in class analysis software. This truly enables the path from laboratory studies to clinically relevant insight." 
Are you in dire need of a novel protein assay technology? Then visit AYOXXA's website and check out their LUNARIS™ technology!
---
Images via angellodeco from Shutterstock and AYOXXA