New Oncology announced that it has entered into a collaboration agreement with Gustave Roussy Cancer Campus, Paris. 
Under this agreement, New Oncology (Cologne-based German Biotech company) will perform comprehensive parallel multigene testing to identify therapeutically relevant alterations in cancer-related genes. New Oncology will apply its proprietary diagnostic platform 'NEO', which allows rapid sample processing compatible with both daily clinical routine and standard sample material.
The diagnostic test empowers physicians to select the optimal targeted therapy for their patients. NEOplus is a genetic test which detects actionable genetic alterations. The advantage is that all therapy-relevant alterations, i.e. mutations, amplifications, insertions/deletions, and translocations are detected from one single patient sample.
Moreover, the medical report suggests suitable targeted therapies and an individualized recommendation for treatment if genetic alterations are identified. The report also provides information on relevant clinical trials.


New Oncology is the molecular diagnostics division of Blackfield AG, a company specializing in cancer genome analysis. It collaborates with pharmaceuticals and genomic companies.
"We are very pleased to partner with Gustave Roussy, Europe's leading oncology center. We look forward to contributing New Oncology's unique diagnostic platform enabling in-depth genetic profiling of tumor samples. Together, we expect to significantly improve personalized approaches for the benefit of cancer patients" commented Dr. Andreas Jenne, CEO of New Oncology.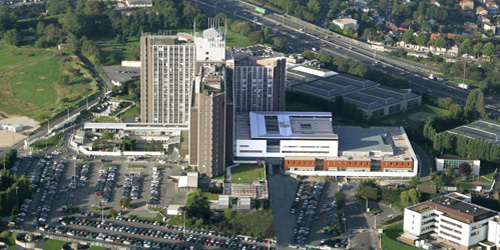 Gustave Roussy is a Europe's leading oncology center, it is an international institute whose expertise in oncology is entirely dedicated to its patients. Gustave Roussy is a private health facility working within the French public health system and is authorized to receive donations and bequests.
"The dramatic responses seen in patients receiving targeted treatment have shifted the therapeutic paradigm to therapies which are based on the molecular characteristics of a given cancer. Thus, comprehensive genomic diagnosis of FFPE tissues is an important step to optimize clinical care to patients throughout the different lines of therapy" said Professor Jean-Charles Soria, Head of the Drug Development Department at Gustave.
This collaboration could lead to a leading european molecular diagnostic company. Nevertheless, competition is strong on this market. Myriad Genetics, Salt Lake City based Biotech company, has commercialized the first genetic test ever and counts over 1700 employees today. Foundation Medicine is another exemple. Founded in 2011, it is already public with a $600 million market value, counts over 170 employees and is growing extremely rapidly. Foundation Medicine is featured in our last documentary about Boston's Biotech ecosystem and you can watch the interview of Jeffrey Ross, Medical director of the company here: http://labiotechtour.com/foundation-medicine/