Sophia Genetics has become the first European company to obtain a CE-IVD mark allowing the use of their bioinformatic algorithms to analyse clinical data obtained through Next Generation Sequencing. This certification is an important step in making these in the standard use of routine genetic testing and clinical diagnosis. It brings Sophia Genetics' world-leading Data Driven Medicine platform to a wider market.
Sophia Genetics offers a software as a service, which can keep safe all the genomic data from patients and give results of genetic tests data. Their software, called dropGen is able to use genetic sequences, analyse them and deliver precise data visualization to clinicians. The following figure shows all the process: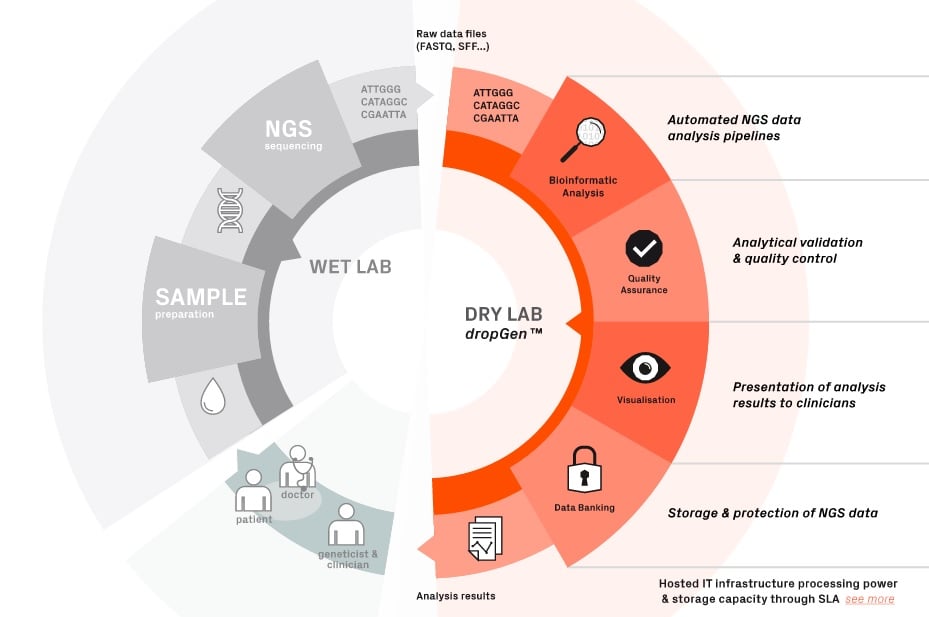 The CE-mark (CE-IVD) indicates that an In Vitro Diagnostics (IVD) device complies with the European IVD Directive, and that the device can be legally commercialized and distributed in the EU.
Jurgi Camblong, CEO of Sophia Genetics, said:

"The barrier to wider adoption of Next Generation Sequencing (NGS) data for the routine genetic testing of patients has historically been the challenge associated with analysing data. At Sophia Genetics we understand the complexity of NGS data and the need to analyse this data to a clinical standard. We have designed solutions to address even the most difficult data analysis problems that existing bioinformatics software programmes are not able to solve, making NGS genetic testing much simpler, faster and easier for our lab customers." 
Moreover, Sophia Genetics has significantly expanded its European customer base through its first deal with the UK National Health Service, and an agreement with a leading Turkish laboratory. There is also a demand for the company's services among laboratories and hospitals in Germany, France, and Italy. It is a very good tool for oncologists, clinicians, and physicians who ask for a high degree of accuracy. It confirms the potential of this company which raised 13,75 million euros in July 2014.
Due to advances and price drops in next-generation sequencing, data-driven medicine is at the forefront of a revolution taking place in the diagnosis and treatment of genetic disease.