Sygnis is planning to acquire Expedeon, to join its portfolio in NGS reagents with Expedeon's presence in the proteomics market – and become a leading player in life science reagents.
UPDATE (article originally published on June 6th, 2016): Sygnis successfully completes Rights Offering and Private Placement and secured the acquisition of Expedeon Holdings Ltd. on July 15th, 2016. See the end of the article for more details.

Headquartered in Germany and Spain, Sygnis develops products for genomic research, such as kits to amplify DNA and systems to 'convert' RNA into DNA – making RNA analysis easier.
Its present focus is facilitating next-generation sequencing (NGS) and the huge role it could play in personalized medicine.
Sygnis also eyed the emerging proteomics field. It developed Double Switch (now licensed to Thermo Fisher), a tool to detect and quantify protein interaction – an added layer of complexity in biology that cannot be 'seen' in the genome.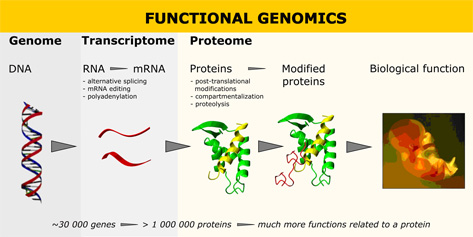 Now, Sygnis is making a very significant move towards proteomics. It is merging with Expedeon, a spin-off of Cambridge University which is developing innovative products for several key laboratory procedures in the field.
Proteomics studies an organism's proteins in large-scale experimental analysis of their structure – in the same way genomics studies genes. This field could therefore hold the key to understanding many diseases, including cancer.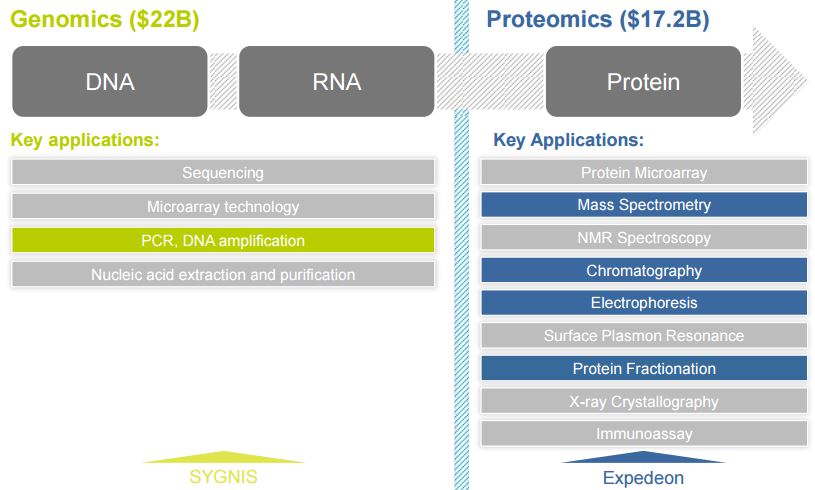 Though genomics and proteomics are different markets, they are both part of molecular biology research. By merging, the two companies' portfolio is highly complementary and will be able to cover all users in the field – from universities to CROs and Pharma.
In fact, the proteomic procedures targeted by Expedeon are often carried out after genomics research, for which Sygnis supplies. So this is a major opportunity for synergy, creating a line of products for the entire lab workflow.
There's also no overlap in the products developed by the two companies, making the merger more valuable and easier – i.e. there is no need to 'kill off' certain products or operations.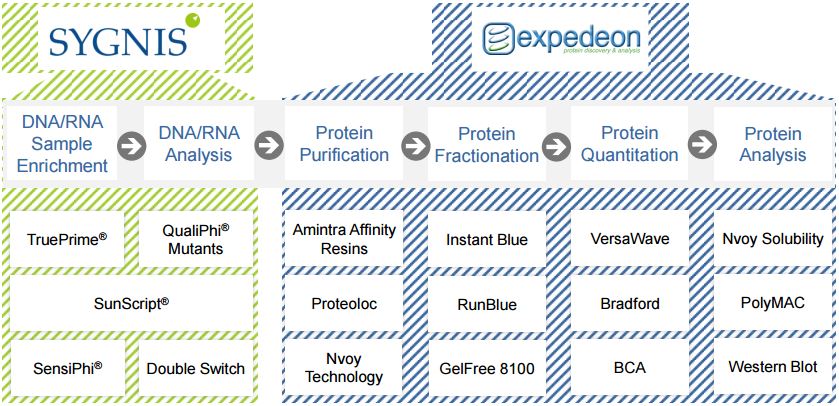 However, there's more in the deal than just the 'perfect' portfolio. Expedeon is already profitable, with revenues around €3.5M. It has a loyal customer base and has important sales channels.
With the merger, Sygnis gets the direct sales team of Expedeon, which grants it a strong presence in two key markets – UK and US.
Expedeon has a strong presence in the US, with an established base in California. In 2011, it has also acquired a Tennessee-based company (Protein Discovery). In fact, the US is the source of over 30% of Expedeon's revenues.
The acquisition could also provide an entry to Asian markets. Expedeon has a sales office in Singapore, and has distribution agreements with Sigma (a giant supplier in life sciences) and Tanon – a major player in the Chinese market.

For Expedeon, the acquisition will not only mean an access to the genomics market and increased visibility, but also access to the markets. Sygnis is also currently listed on the Frankfurt Stock Exchange (Germany).
To finance the transaction, Sygnis will be conducting a capital increase, by way of a rights offering of up to 20.5 million shares. Any new shares not subscribed by Sygnis or Expedeon shareholders will be offered to select qualified investors in a private placement.
Expected proceeds from the capital increase of up to €5M will be used for transaction-related expenses, including €1.7M cash payments to Expedeon shareholders, one-off integration costs and financing working capital.
UPDATE: On July 15th, 2016, Sygnis successfully increased its capital with approximately €20.5M by way of a rights offering.  Pilar de la Huerta, CEO and CFO of SYGNIS AG, said: " The acquisition of Expedeon will transform SYGNIS into a truly international player and will not only improve our strategic position but will allow us to achieve important operational and financial milestones."
With this acquisition secured, Sygnis could become the next big supplier in the life sciences industry – with a strong presence in two very exciting fields in Biotech; genomics and proteomics.  
---
A talk about understanding cancer with genomics and proteomics…
---
Feature Credit Image: 'Fairy DNA' Cropped to size (CC 2.0 Flickr / Stuart Caie)
Figure 1 Credit: Pavelic et al. (2004) Global approach to biomedicine: functional genomics and proteomics, J
ournal of the international federation of clinical chemistry and laboratory medicine.
---