About 1,400 children under 5 die of sanitation-related illnesses daily. The Cranfield Water Science Institute and the Gates Foundation may have a solution: a waterless toilet.
Lack of access to clean water and proper sanitation is the main issue in third-world and developing countries, causing health issues and drinking water contamination. Over 2.4 billion people don't have somewhere safe to go to the toilet, and every day about 1,400 children under 5 years old die of illnesses resulting from poor sanitation.
The Bill & Melinda Gates Foundation is well aware of this problem and decided to help: "Innovative solutions change people's lives for the better," said foundation co-chair Bill Gates. "If we apply creative thinking to everyday challenges, such as dealing with human waste, we can fix some of the world's toughest problems."
The research commissioned by The Bill & Melinda Gates Foundation aims to solve this problem with a waterless toilet to convert human waste to water and ashes. The joint collaboration of Cranfield Water Science Institute (CWSI), Cranfield Energy and Centre for Competitive Creative Design (C4D) is making a move. Cranfield University,  internationally recognised for engineering and wastewater management, answered the call and received a grant to develop its Nano Membrane Toilet for single households.
The innovative system uses nanomembranes to block odors and a special rotation mechanism to separate solid and liquid waste. Water is removed from urine, and the remaining compounds are combined with the solid waste. Solids are transported by a mechanical screw into a compartment and then converted into ashes and energy. The nanomembranes block odours in the water produced, the flush mechanism has a larger role in overall odour control. The special rotation mechanism is really a waterless flush, and source separation is also achieved with the screw and gravity settlement. The water can be reused in the household for washing or irrigation, and the energy produced can power not only the toilet but also perhaps other low-voltage devices like mobile phones. These advantages make the Nano Membrane Toilet an all-around sustainable technology.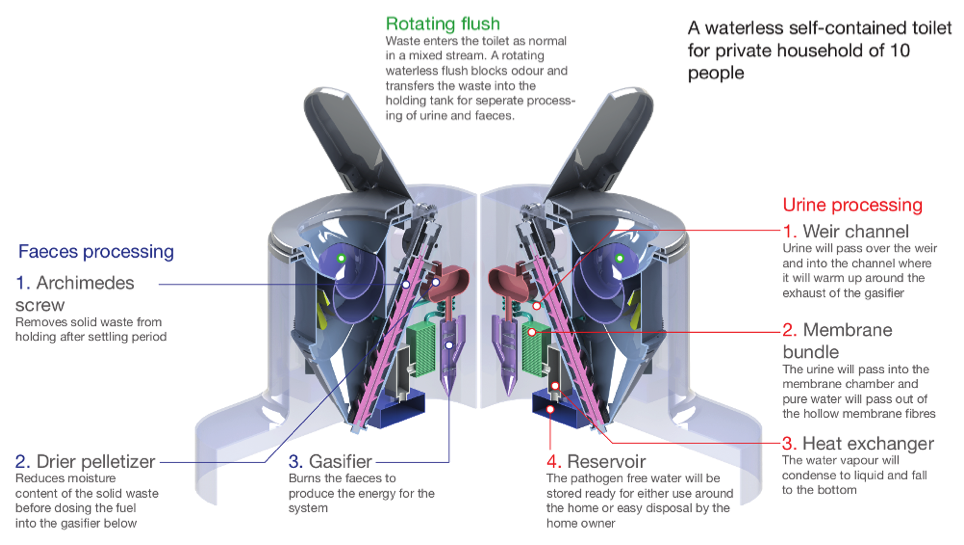 CSWI's toilet is already gaining recognition. Since it was started in September 2012, it won the Technology Research Award at CleanEquity Monaco in 2015 and the Queen's Anniversary Prize in 2016. From its team of experts, we interviewed Edwina Mercer and Farhad Kamranvand, both PhD students working on the membrane integration.
Let's hear what they have to say about the Water and Wastewater Engineering sector!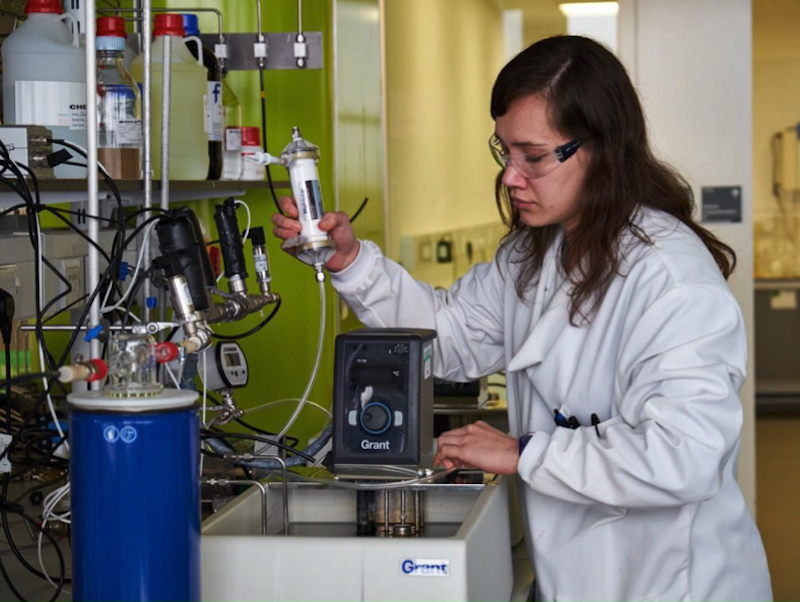 What is your day-to-day work in the lab? What type of experiments do you do ?
E: I'm working on ensuring that the output water product is safe to use and doesn't smell. I analyze the inlet and the outlet of the membrane using technologies such as gas chromatography-mass spectrometry (GC-MS)  for odor characterisation; I also test for ammonia, organics, salts, total solids, phosphorus, and pathogens.
F: Well, daily tasks are not as static and pre-defined as you might think. Every day I face new challenges that have to be solved in order to progress in the experimental part of the work. I am designing a membrane cell test to evaluate the performance of membrane fibers under critical conditions.
Do you use simulated fecal samples or collect real samples?
E & F: I test the membranes with both synthetic and real waste. Preparation of the real samples has its own difficulties, especially when the health and safety factors must be taken into account. In addition, sample collection can be a challenge since it requires people to donate… I processed 81 feces samples from our volunteers, which was some messy work!
The novelty of this project quite obvious; what are its limitations?
E & F: We have 26 people on this team from 3 disciplines — water, energy, and design. We're all working on our own individual parts, so I think the main challenge is system integration and making all the components work as one process. Also, there is a lot that still needs to be done regarding public perception and user behavior towards the product.
Do you believe it is feasible to market this soon?
E & F: Yes, we've had quite promising results as we come to the end of testing the different scientific processes. The next stage will be to integrate the system followed by field trials then commercialisation of the product. This should take a few years still. I really believe that this project is going to save thousands of lives and improve the health of small communities where there is no adequate sewage collection system or centralized treatment facility.
As clean, safe water becomes a more and more precious resource, the waterless toilet, which costs less than US$0.05 cents per user per day, could be our next step towards a more eco-conscious world. This technological innovation can create not only valuable options for commercially attractive business models, but also improve sanitation and reduce disease rates in developing countries.We very much look forward to hearing about field studies outcomes!