A new report listing the top drug launches this year reveals the strong performance of biologicals and European biopharma on the drug market. 
After the worst year in biotech finance, experts seem to agree that the industry will start recovering in 2017. There are still substantial uncertainties, mostly regarding the new US administration. Though a Republican government overseas is likely to favor the industry's finance, US president Trump has accused pharma from 'getting away with murder', which made stocks drop sharply.
Still, quantitative predictions can be made for the new year. EP Vantage has put together a report summarizing what to expect from the pharma and biotech industry this year. Not surprisingly, European biopharma is predicted to have a strong presence, with half of the top 10 drugs to launch in 2017 being biologicals from Europe.
Selected by predicted sales in 2022, the first 4 drugs in the list have been developed by European biopharma companies. Roche and Sanofi head the list with therapeutic antibodies, while Novo Nordisk is bidding for a protein drug. For its part, AstraZeneca will release a new PD-L1 checkpoint inhibitor that will directly compete with Roche's Tecentriq and MSD's Keytruda, already in the market.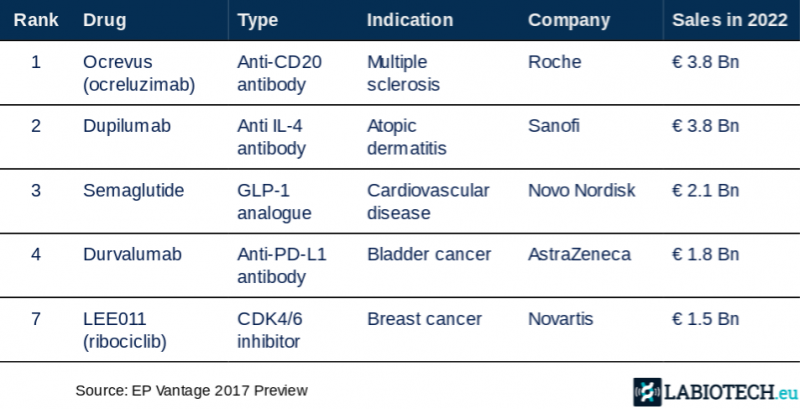 Regarding approved biologicals predicted to be among the top 10 sellers in 2017, Roche will be stealing the show. Three of its biologicals for cancer indications, Rituxan (rituximab), Avastin (bevacizumab) and Herceptin (trastuzumab) are on the list, with sales in the €6.5-6.7Bn range each. Sanofi's insulin Lantus is also in, though its predicted €4.9Bn sales are lower than in previous years.
The report predicts that the coming years will bring big changes to the top biologicals list with the arrival of biosimilars. European drug makers Boehringer Ingelheim and Novartis' Sandoz are already developing their own versions of the top-selling drug, AbbVie's Humira. In addition, innovative technology such as CAR-T, gene therapy and NASH treatments could make a big entrance in the market in coming years.
From the numbers, two things are clear. First, biologicals have definitely taken over the pharma market, driving the biggest sales in the industry. Second, European biopharma is gaining more and more strength in a space that has been dominated by US companies.
---
Cover image by BeeBright/Shutterstock