This multinational Phase III Trial for an Oncolytic Immunotherapy for Advanced Liver Cancer could be what really defines French Transgene as the underdog which finally sprang to fame.

Transgene, in Strasbourg, was founded in 1979, as France's oldest Biotech (only 3 years after Genentech was born on the other side of the Atlantic). However, unlike  Genentech, Transgene has had a rockier time as the industry sprung up around them, teetering on the edge of bankruptcy…. that is, until now.
This French biotech (of only about 300 employees) is could be second biotech ever to bring an oncolytic viral therapy to the market. However, they're not quite there yet, and although Amgen managed to make it first (with T-VEC for melanoma), there is clearly a lot of demand in the market for a liver cancer equivalent.


In Europe, there were estimated to be over 63,000 new cases and over 62,000 deaths from liver cancer (and these figures rise to the 780,000 range worldwide), and hepatocellular carcinoma (HCC) accounts for around 80% of these.
An oncolytic viral therapy is a gene therapy which is delivered to cancer cells using a viral vector (to understand how these work, read our review on immuno-oncology). Pexa-Vec (pexastimogene devacirepvec) is the candidate in question, armed with a granulocyte-macrophage colony stimulating factor (GM-CSF) gene to promote an anti-tumor immune response.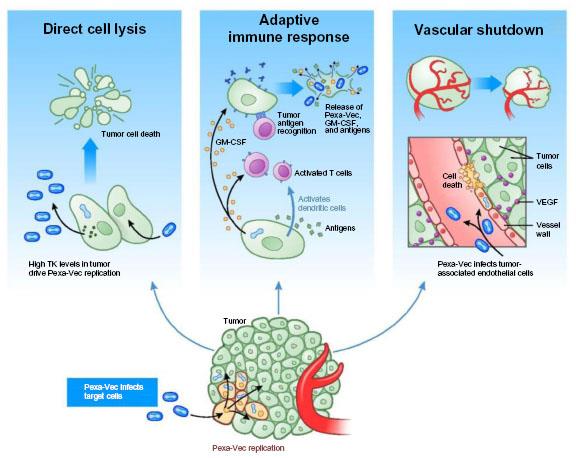 Transgene have had previous success with their oncolytic viral platform, with their other leading phase II candidate targeting non-small cell lung cancer. Now, their global investigational trial for liver cancer (dubbed 'PHOCUS') is enrolling 600 patients who are eligible for treatment with the Bayer-Onyx Pharma kinase inhibitor sorafenib (Nexavar) – the only approved drug for advanced HCC.
The study will be conducted at approximately 140 sites worldwide by Transgene's partner, SillaJen (based in South Korea), in North America, Asia, Australia and Europe, and Transgene has exclusive access to the US and EU market.
We're pleased to hear this development for Transgene, and some financial recognition (although still not huge) could potentially be what propels this French biotech to become one of the immuno-oncology success stories of 2016.
---
We interviewed
Stéphane Boisse

l, former Executive Director of Transgene on our Labiotech Tour

---
Feature Image Credit: Remix of Open Source Virus and Graphics (Source: Transgene)