UniQure has received Breakthrough Therapy Designation from the FDA, granting fast track to its gene therapy for hemophilia B.
UniQure is one of the companies leading the development of gene therapy for hemophilia. Now, the FDA has granted Breakthrough Therapy Designation to its candidate AMT-060 for hemophilia B. This is awarded to selected therapies that have demonstrated a substantial improvement over available therapies and implies accelerated approval and priority review.
The FDA has based its decision on results reported from the ongoing Phase I/II trial of AMT-060. All 10 patients have shown improvement, with levels of clotting factors remaining constant for at least 31 weeks, and only one patient has suffered a spontaneous bleed. None has developed antibodies against clotting factor IX or the viral vector.
Gene therapy could provide hemophilia patients with a one-off treatment that could significantly improve their quality of life. In addition, it could reduce expenses for patients and healthcare providers.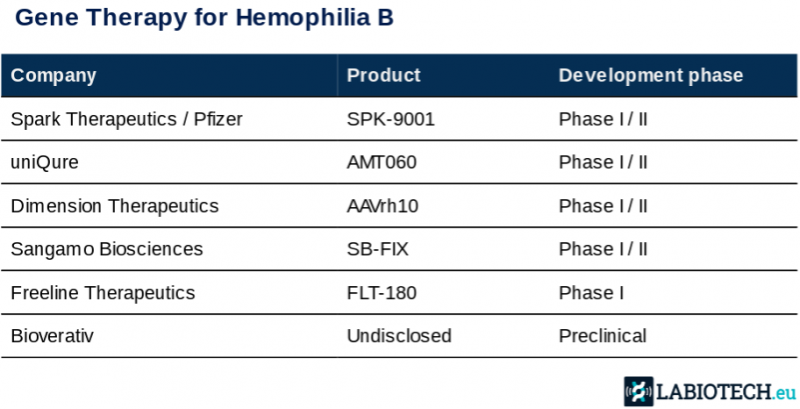 Hemophilia is an attractive target for gene therapy because the disease is monogenic, drug delivery to the liver is simple, and results are easily measured through well-characterized biomarkers that make measuring results easy.
Consequently, competition is strong. After Shire dropped its program last year because of inconsistent results, uniQure and the Spark-Pfizer team are now leading the development. "We have a very good shot at being the first to market in hemophilia B," Matt Kapusta, CEO of uniQure, told Labiotech.eu. He commented that the company is aiming at running a pivotal trial by 2018.
The success of AMT-060 might actually hold the future of uniQure, whose finances have been tight after the commercial failure of Glybera, its first gene therapy. After taking an ax to its pipeline and workforce and the recent appointment of Kapusta as CEO, the company has redirected its strategy. It is now prioritizing its gene therapy programs for hemophilia B and Huntington's, as well as a partnership with Bristol-Myers Squibb for cardiovascular disease.
---
Cover image from JT Platt/Shutterstock