A gene therapy developed by the Dutch biotech uniQure increased the activity of a blood clotting protein enough to stop bleeds in patients with the blood disorder hemophilia B.
Hemophilia B is a rare genetic condition in which patients have a mutation in the blood clotting protein factor IX (FIX), reducing its activity below 6% of healthy levels and resulting in spontaneous bleeds.
To treat this condition, the biotech uniQure is developing a gene therapy to deliver a special variant of FIX that is up to eight times better at clotting blood than normal FIX.
Preliminary results from an ongoing phase IIb trial testing this therapy have shown potential to stop bleeds. Three hemophilia B patients treated with the gene therapy saw their levels of FIX activity increased to an average of 47% of normal levels, which is widely considered sufficient to stop bleeds. Furthermore, the three patients were able to stop taking FIX replacement therapy used to control bleeds, and experienced no serious adverse events.
These preliminary results are good news for uniQure, as they prove the company made the right decision when it modified the gene therapy to carry a more active form of FIX.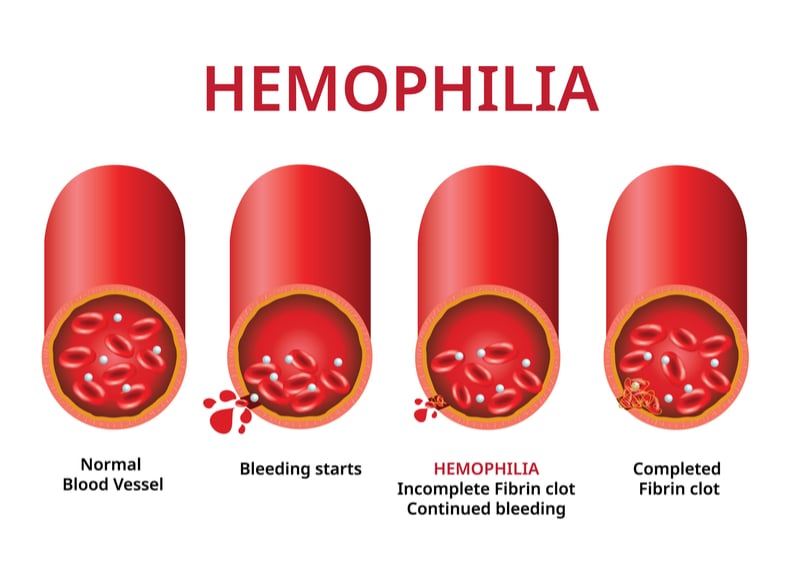 The previous version of the therapy only increased FIX levels to under 10%. So in 2017, uniQure decided to introduce a modification that could improve its performance before starting a phase III trial. The company is now recruiting patients for a phase III study in 50 patients with hemophilia B, with an expected end date of 2024.
The three patients in the current trial will continue to be monitored for another six months to check FIX activity, and then for another five years to measure the gene therapy's long-term safety.
The therapy is now able to compete with a phase III gene therapy developed by Spark Therapeutics and Pfizer, which restored FIX activity to 34% over a year.
"Our goal with [the gene therapy] is to give all people living with hemophilia B access to a one-time treatment capable of normalizing FIX activity and eliminating the need for replacement therapy," stated uniQure's CEO, Matt Kapusta. "These updated data continue to suggest that [this] may be the first gene therapy able to achieve this goal."
Hemophilia is a contested market by biotechs across Europe and North America racing to launch the first gene therapy. Sangamo Biosciences, for example, is using a type of gene editing to make the patient's liver express FIX. Other companies are exploring options such as RNAi therapy and cell therapy to treat hemophilia.
---
Images from Shutterstock