The Belgian biomanufacturing company Univercells and the Japanese pharmaceutical company Takeda have signed a strategic partnership agreement.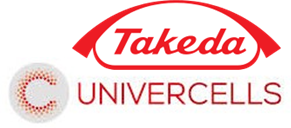 Univercells has closed a €3M equity investment with Takeda Ventures to produce affordable vaccines. Univercells provides single-use cost-efficient bioprocess solutions to lead the next generation in biomanufacturing. Under the terms of the agreement, the two biotechs will launch a development program to tailor Univercells' continuous integrated manufacturing methods, and applying them to the Takeda vaccines production platform.
"Partnering with Takeda is a strong sign that we are heading in the right direction. We are excited to collaborate with a pioneering global player focused on helping people above all else," said Hugues Bultot, CEO of Univercells.

 "Equal access to health around the globe is critical and we believe this comes through decentralized production, which is the biggest challenge in this new era of biomanufacturing" said Jose Castillo, CTO of Univercells.
Meeting global demand is an ongoing challenge for vaccine producers. The Vaccine Industry meets this challenge every day thanks to their R&D and production facilities. Global demand depends also on price of vaccines, and a good price is important to maintain sustainability for the company.
By this partnership Takeda is committed to making its vaccines available to people in need. Conversely, the production at Univercells' facility reduces production costs, whilst still maintaining the highest levels of quality.
This collaboration is very promising when you know that protecting patients, at a time of limited supply, is difficult.