Yes, the title may have surprised you, but it's true. Vaximm is one of the few biotechs worldwide using bacteria to activate the immune system against cancer. I was really surprised about how elegant the technology is when I had a chat with the Executive Chairman Klaus Breiner at BioEquity in Copenhagen.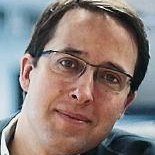 Vaximm is based in Basel (Switzerland) and Mannheim (Germany) and was founded in late 2008. The entire platform of the company is based on using an engineered version of commonly-used vaccination bacteria (Ty21a) to present cancer-fighting antigens.
How does it really work? Here's a diagram from the company: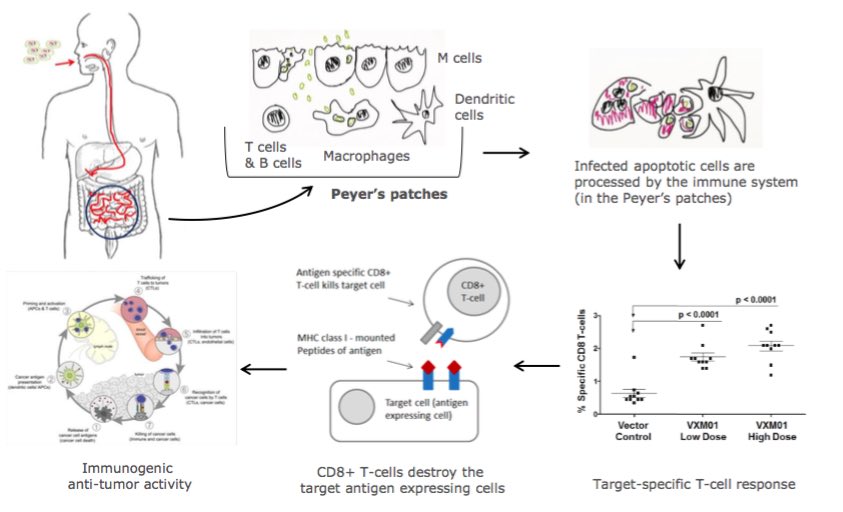 The engineered bacteria are given orally to the patients. They go to the small intestine's lymph nodes to infect mostly macrophages, which will then express the specific antigen and after self-destruction are processed by the immune system activating T-cells against that antigen. "Our first-in-class approach is really unique" commented Breiner.
"Developing such a platform and novel mechanism of action is definitely not cheap", told Breiner. However, Vaximm was able to raise €26M so far in several rounds from leading biotech investors among the lines of BB Biotech Ventures (where Breiner is a partner), Merck Ventures, Sunstone Capital and BioMed Partners.
"Cancer vaccination has been a dream of many companies so far". Unfortunately, the reality is that achieving this is way more complicated than what theory may suggest. You cannot simply inject a cancer antigen to activate a solid immune response. The best results lately were on the side of immunotherapy with checkpoint inhibitors (such as PD-L1 or PD-1) and cell therapy (CAR-Ts).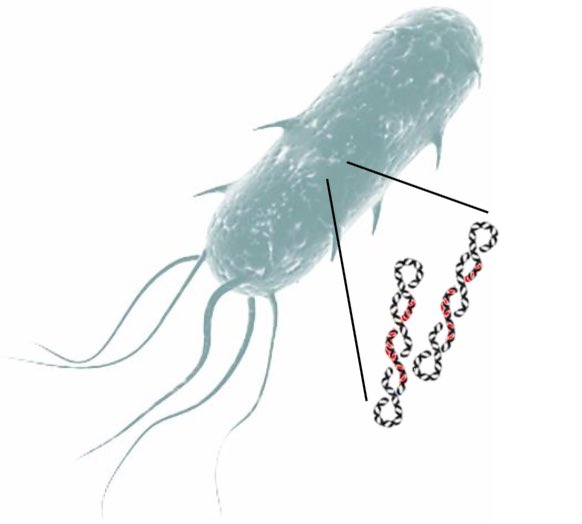 Vaximm's lead product VXM01 stimulates T-cells against tumor vasculature and already has proven clinical results. The company completed a Phase I/II in which it met its primary endpoint (safety) and showed first results of efficacy.
I was wondering how this works and if the body would not have an adverse effect by reacting against the bacteria itself and not just the antigens. But the data clearly suggest that the approach is safe even though it showed few minor side effects. On the efficacy side, the company showed it was able to activate T-cells in 66% of the patients, and the results suggest survival benefits thanks to VXM01.
"We announced exciting milestones for the company recently". Indeed, the company just started a Phase IIa in advanced colorectal cancer in Heidelberg. The reasons are the high unmet medical need – immune therapies have had little success in this indication so far – and VXM01's mechanism, which fits well to this cancer type. The "drug" is used as second- and third-line treatment (after patients failed chemo and antibody therapy etc.). The data is expected in 2017.
The company also presented its Phase I/II data in pancreatic cancer at ASCO, the world's biggest meeting for clinical oncology (here's a list of European Biotechs who stole the show). As it was after BioEquity, I cannot give you Breiner's direct comment, but I guess it must have been an extremely important moment for the company.
What are the next steps for the company? "We are now looking to raise a new round and find great partners to develop VXM01 and further products on our platform".
I was really positively surprised by my meeting with Breiner. The company has a really original approach, good data and is well-financed. Best of all, it's active in the (over?)hyped field of Immuno-Oncology (see our panel from Refresh here).  I will definitely keep a close look at the company as it moves forward through the clinic and its commercial development.
---
Featured image credit: Pixabay