The objective of the French biotechnology company, Vect-Horus, is to leverage its technology, VECTrans, to facilitate the delivery of drugs into the brain and other organs. For this innovation, the company recently received the Frost & Sullivan 2016 Leadership award, which independently recognizes companies for demonstrating excellence in developing innovative technologies and practices within an industry. We had the chance to meet Alexandre Tokay, the co-founder and CEO.

What is the scientific background of your invention?
Biologicals are an emerging class of medicine with considerable promise to treat neurological disorders like Alzheimer's disease, stroke and multiple sclerosis. However, the blood-brain barrier (BBB), which prevents most toxic molecules and infectious agents from entering the brain, also heavily restricts the passage of therapeutic products from the blood to the brain following systemic administration. Indeed, an estimated 98% of all active drugs, including peptides, proteins and therapeutic antibodies, are not able to cross the BBB.
One promising strategy for overcoming this barrier to delivering biologicals is the targeting the endogenous receptor-mediated transport (RMT) system that employs vesicular trafficking. More specifically, if a drug is modified with an appropriate BBB-targeting ligand, it can gain improved access to the brain via RMT.

Which technical solution do you bring to face this problem?
To overcome biological barriers and reduce the attrition rate of central nervous system drugs, we have designed and developed short (8 amino acid-long), specific and stable peptide-based vectors with a half-life in blood from 1h30 to more than 9h. These facilitate the delivery of drugs into the brain by specifically targeting receptors involved in RMT.
More precisely, how do your vectors work to cross the BBB?
To better understand the scientific approach of VECTrans, it is important to understand the roles of the receptors involved in the RMT and the role of the brain endothelium in molecular transport. Its transport system, known as RMT, is based on the vesicular trafficking machinery of the endothelium to transport substrates between blood and brain (see figure below).
Receptor-mediated transcytosis involves the binding of ligands to specific membrane receptors on the surface of the brain capillary endothelial cells that make up the BBB. Initially, a Vect-Horus RMT-targeting peptide-based vector conjugated to a drug (Step 1 in Figure 3) binds to a specific receptor involved in RMT (Step 2). Subsequently, the membrane forms an intracellular vesicle with the complex inside through endocytosis (Step 3). Once inside the cell, the vesicle can be trafficked to two different destinations, one of which is brain-side, where fusion with the membrane and release of vesicular contents occur. This process is called transcytosis (Step 4). Alternatively, vesicles can be sent to the lysosome for degradation of their contents (Step 5).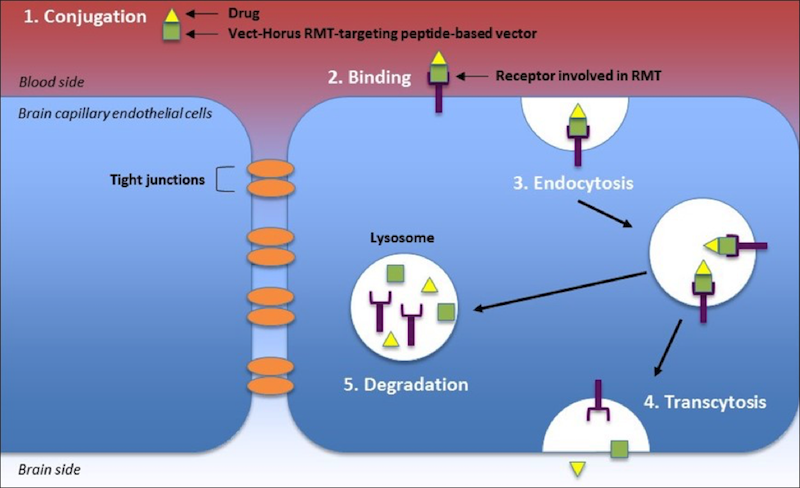 Thus, if appropriately targeted, Vect-Horus RMT-targeting peptide-based vectors can be used to shuttle a wide range of biologics into the brain in a noninvasive manner. This would be a huge breakthrough for delivering treatments to the brain!
Could you tell us more about your actual pipeline? Your collaborations?
In close collaboration with top academic research centers (CNRS, CEA, INSERM), the company, recently recognized by the CNRS as one of the 15 success stories among 1,000 spin-offs from its laboratories, has set up a screening platform of peptide and nanobody libraries to identify and optimize RMT-targeting peptide-based vectors and conjugate them with imaging or therapeutic agents.
More precisely, Vect-Horus has already established the proof-of-concept of its technology in animal models by vectorizing an endogenous neuropeptide with global hypothermic potential, which is in the regulatory preclinical stage. This first drug-candidate, VH-N439, aims to be a first-in-class pharmacological agent inducing therapeutic hypothermia and will be positioned as a neuroprotective agent for sudden cardiac arrest, neonatal ischemia, traumatic brain injury, and potentially for stroke.
In addition, we have also developed vector molecules designed to treat various cancers including pancreatic cancer or rare genetic disorders such as lysosomal storage diseases (see figure below).
Finally, the technology has been the centrepiece of a few research collaborations: Vect-Horus signed a deal with Sanofi for the treatment of a neurodegenerative disease in early 2015; Advanced Accelerator Applications, a European leader in the field of molecular and nuclear imaging; and more recently Servier in mid-2015.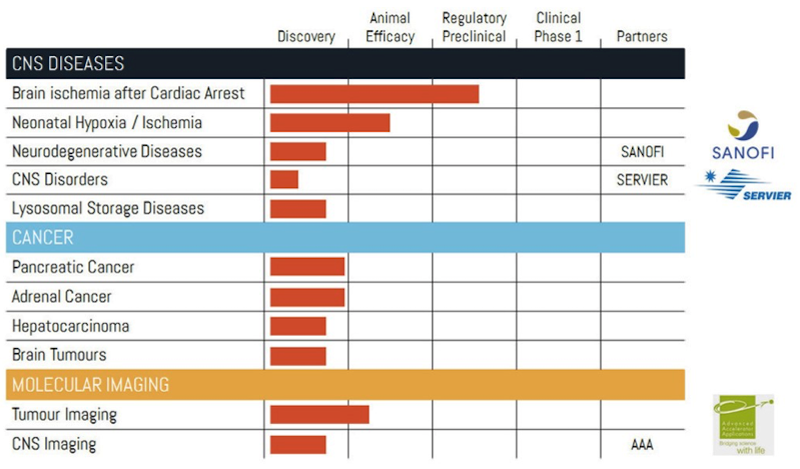 So what is next for Vect-Horus?
Vect-Horus has already raised €17M, more precisely €11M in equity and €6M in public grants. We intend to move forward our business development activities through sponsored research agreements with the top 25 neuroscience pharmas. To this end, we have out-licensed some of our programs issued from our VECTrans technology platform. Moreover, we have received a new grant for a vectorized therapeutic molecule for pancreatic cancer financed by the program-related investment from Provence-Alpes-Côte d'Azur Region.
Additionally, more funds should be raised this year to finance different projects in neuroprotection for sudden cardiac arrest and oncology theranostic approaches. We are also looking forward to enlarging the capabilities of our VECTrans technology platform to enrich our intellectual property portfolio.
With its disruptive and patented technology to cross the blood-brain barrier, and a rich internal pipeline of proprietary drug candidates and external collaborations with partners, Vect-Horus appears to have really caught the attention of media and investors alike.
---
Featured Image, Figures 1, 2 and 4 courtesy of Vect-Horus
Figure 3 by the author
---