VenomAb made quite an impression at the Startup Battle of Labiotech Refresh. Want to know what makes a biotech audience gasp unanimously? Then take a look at VenomAb's pitch…
We had Andreas Laustsen, founder of VenomAb, pitch his startup's mission to bring antivenoms out of the 1900s into the modern age of biotech.
The idea really captured the audience's attention, but not everyone was convinced about the business model…
---

VenomAb was one of the visited companies during Labiotech Tour Denmark., but this a great opportunity for me to understand better what its team is doing, particularly taking into account that they don't have a website.
Lack of website aside, VenomAb's message was incredibly streamlined, including its founder branding himself as 'snake-bite Jesus'.
This Danish startup wants to tackle the problem of snake bites, which is considered by the WHO as one of the most neglected tropical diseases.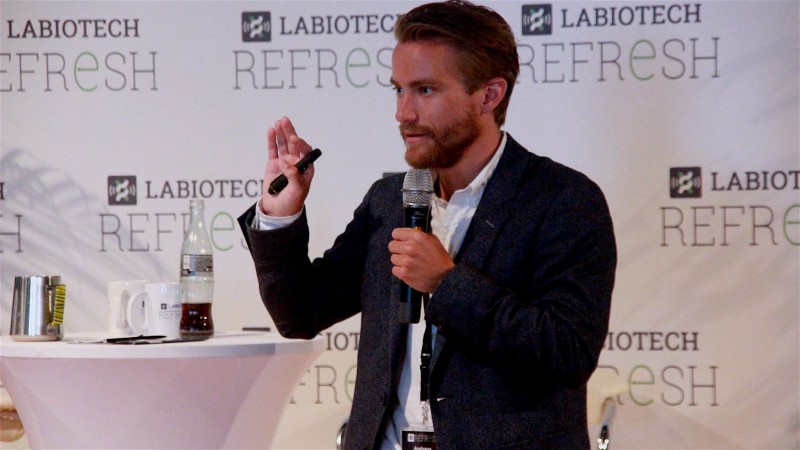 A big part of the problem, Laustsen argues, is that the science just didn't keep up. Antivenoms are the same as 120 years ago – using antibodies from horses. VenomAb wants to bring this into 21st century biotech.
Its goal is to create antivenoms with recombinant human antibodies that have less immunogenicity and can be produced by fermentation. That means a more stable and (maybe) cheaper product.
Laustsen is relying on emerging technology for oligoclonal antibodies (a mixture of a few different antibodies, in between monoclonal and polyclonal therapies) and novel libraries with human antibodies with high affinity for snake venom toxins.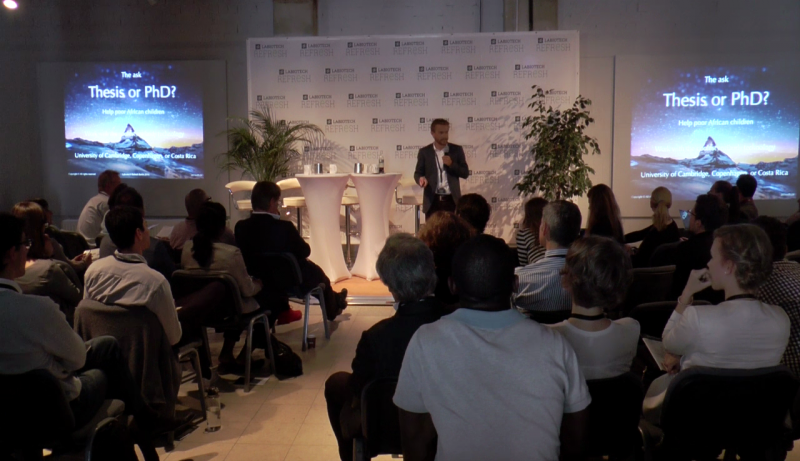 This is the cue for the wrap-up of his pitch:
I'm not looking for investors at all. I'm looking for [students] who want to help poor African children by working on some of the coolest antibody technologies."
So this all sounds very exciting, but it did raise a lot of questions from the jury (and the audience!).
There was a lively discussion about the power of commercialization (something we also discussed with Lysogene's founder, who created a company to save her daughter), regulatory agencies in developing countries and underlying problems of logistics (which put a dent in similar projects, like Sanofi's synbio malaria medicine).
Have a look at the video for the full footage!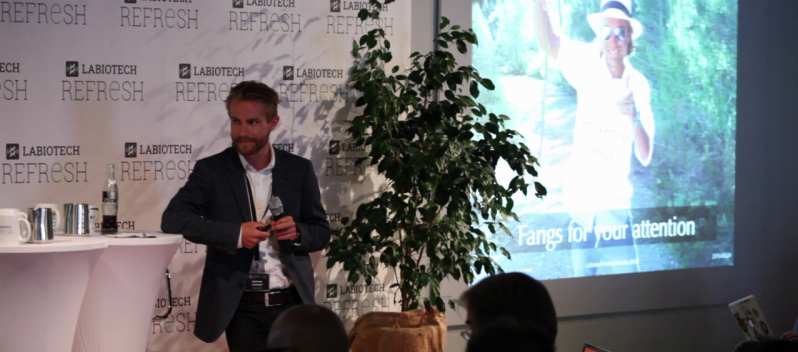 ---
Feature Image Credit: VenomAb Pitch in the Startup Battle at Labiotech Refresh Berlin, May 24th, 2016 (CC 3.0 – Claire Braun at Labiotech.eu)
All images of the conference speakers are available on our Flickr account under a Creative Commons 3.0 License. Feel free to share!
---