Viscofan BioEngineering has a green light in Spain to start clinical testing for its stem cell technology in patients with weakened heart muscles after a heart attack.
While Viscofan BioEngineering's main focus is on making sausage casings out of collagen, its technology could also help patients with weak heart muscles after suffering from a heart attack. The Spanish Agency for Medicines and Medical Devices has given the company approval to start a Phase I clinical trial testing its stem cell therapy in ten patients with heart failure.
Viscofan's treatment consists of stem cells from fat tissue that are attached to a collagen membrane. This construct is then sutured directly onto damaged heart tissue, where the stem cells can help regenerate healthy tissue. Compared to treatments that inject stem cells into heart tissue, Viscofan's stem cell-collagen approach enhanced the survival of transplanted stem cells and improved the elasticity and blood flow into the affected heart tissue in preclinical tests.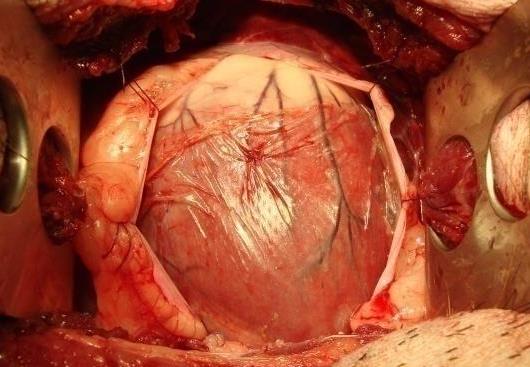 European biotechs are developing different approaches to treating heart failure. Belgian biotech Celyad is a leader in the game, receiving an FDA fast-track designation last year for its cell therapy that treats heart failure with a patient's own stem cells. TiGenix, another Belgian company, has positive Phase I/II results using stem cells from donors to treat heart attack patients at risk of heart failure.
Heart attacks are one of the leading causes of death worldwide, accounting for around 7.4 million deaths globally. Treating heart attacks is particularly challegning because the heart is not able to regenerate healthy its own healthy tissue after being damaged. Cell therapies could provide an important step forward in treating heart attack patients by replenishing healthy cells.
---
Images by Viscofan BioEngineering, zentradyi3ell/Shutterstock