Each year since 1999, MIT Technology Review, the journal from the top-rank US University, discovers new generations of Innovators Under 35. The awarded young leaders are developing new technologies to solve the major global challenges of today in remarkably different ways and impacting the lives of millions of people around the globe.
We had the chance to meet Antoine Hubert, CEO of the French biotech company Ynsect, who told us more about this award and his work.
We already presented your company Ynsect in a previous article. Roughly for our readers, Ynsect is taking up the challenge of producing large-scale quantity of insect-based products. You're using food byproducts to feed your insects and transform it in manufactured products like fish-feed flour. How did you come up with this idea?
I studied agronomy engineering at AgroparisTech, a famous French engineering school. During my studies, one of my projects was to assess the dynamics of insect population threatened by human activities. That was my first contact with the Insect's world! Then, during a work experience in the oil&gas industry, I discovered the bio-refineries. I found that it was a great link with my insect experience and I came up with my 3 future associates Alexis Angot, Fabrice Berro and Jean-Gabriel Levon with the idea of building an insect bio-refinery! I founded Ynsect in 2011 with them to start working on this idea and develop our solution.
Ynsect gives us a unique opportunity to work on very broad topics: we have to address plenty of disciplines like animal husbandry, microbiology, plant nutrition, animal nutrition, robotics, big data, biochemistry, enzymology, marketing, commercial, business strategy, finance, etc. It's amazingly rewarding! Every day I am learning new things by working with our great multidisciplinary team and with the discussion I have with outside stakeholders – from scientists to investors, industrial and public bodies.
The MIT awarded you with the title of Innovator Under 35, does it change something for you?
MIT35 award is firstly an amazing recognition of the potential disruptive innovation that represent insects and Ynsect. Recognized by such high level jury and such a famous science center is an incredible support for Ynsect and all the insect industry. Having MIT saying that insect is a serious and promising topic will definitely help us in future discussions with investors and public bodies for factories settlement for example.
The other great interest is to become part of the MIT worldwide community. Innovation is always the story of people meeting someday somewhere. This network could definitely help to create links between companies and to develop new business opportunities between them. This could lead to new growth opportunities for Ynsect. And why not new ideas for new start-ups between MIT35 laureates!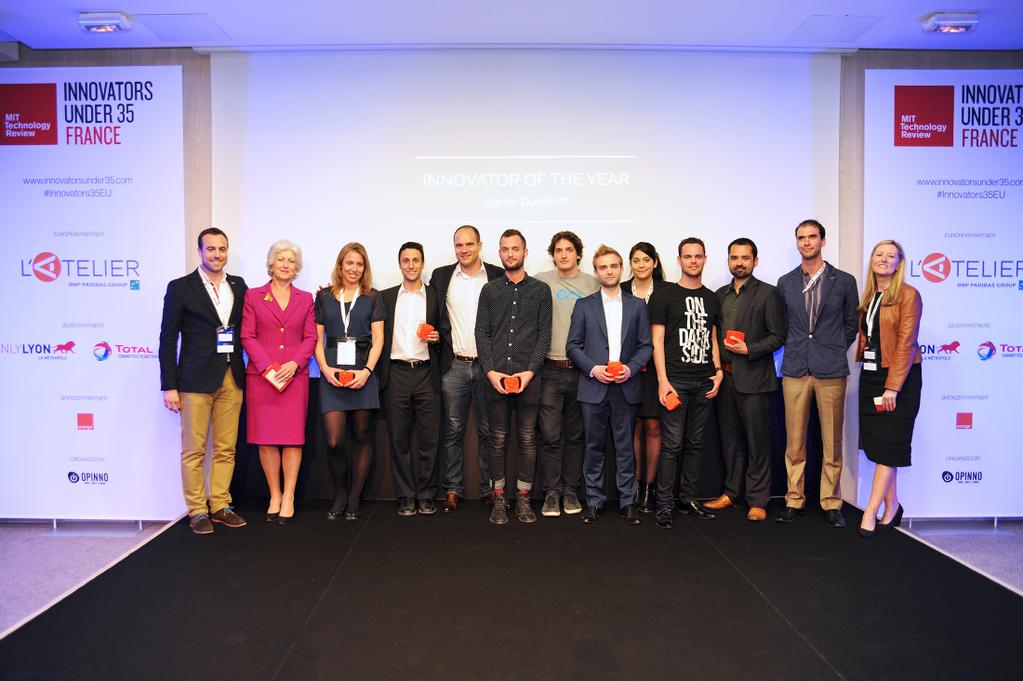 Your first product aims at producing a new fish-feed to support fish farming growth as there are not enough resources worldwide to fulfill the aquaculture needs. It is an insect-based flour which is a natural product (insect are natural prey of fish in the wild), environmentally friendly and which is also a perfect source of proteins to grow fishes. Can you tell us more about your production process?
There are no large scale insect production technologies that can today address the large amount of insect products required by the markets you mentioned at a competitive price – which is around 1€/kg. Insect proteins powders are today rather around 100€/kg with state-of-art technologies.
YnFarm platform deals with high tech farming based on robotics, embedded sensors & big data to produce very large quantities of insects at a very high quality – on nutritional aspects but also food safety aspects where we have the highest standards in the industry. We use also mild processing technologies to recover all insect compounds, in a zero waste scheme. We are using only agro-byproducts and food leftovers as insect feed in a circular economy scheme, to prevent incineration or other low-grade valorization of these biomass materials.
And insects are very economical in term of natural resources used: we have measured that we could produce with our Ynsect technologies, 10 000 times more protein per hectare per year than other plants and animals. We also use 100 times less water than other animals on their life cycle.
In a nutshell, insect production is definitely an environmental-friendly technology that delivers products that are also reducing impacts on the environment by their substitution potential. 


The concept is a bit hazy. What are doing exactly to the insects in your plant? Are you for example doing genetic modifications on insects?
We are totally against any genetic modification. There are no GM insects in our plants. Our insects are collected from existing small farms (for fish baits for example) or from the wild. Our innovation lies in the farming and processing of insects at industrial scale which has never been done so far. Existing insect farms are very traditional, small-scale, labor intensive, without reaching the required quality standards for feed and food markets.
I totally agree with you about the potential market, but before being a millionaire you need to find some customers and maybe change the way people are thinking about insects. How do you manage this? Do you already have lead customers who want to try your product?
We are providing our products from our current pilot plant line to many companies, like fish feed or pet food companies, from all over the world. These samples allow them to assess the interest of our product, and so far the feedback are excellent! Insects are indeed a natural prey for many animals, so the social acceptance of the customers and all the value chain downstream to the final consumer is not that difficult. The difficulty lies rather in the quality of our products, its stability, our reliability in providing them in sufficient quantities, etc. So far, we are achieving tremendous results.
You're definitely not the only startup working on insect-based feed. What makes you different from the competition?
Ynsect has the highest quality standards in the industry and has designed high tech production systems based on robotics and automation which are unique in this new born industry. Ynsect has selected also another insect species – a beetle – when other start-ups have rather selected fly species. Beetles have higher protein content and lower ash content than flies, which is interesting a lot feed and food producers. Beetles are also herbivorous animals, which make it better for human consumption than detritophages (detritus feeders) species. Anyway beetles are largely already consumed in the world, where flies are not. Finally chitin content is a bit higher in beetles which could lead to higher co-valorization in green chemicals that are high value markets.


In our last article, we mentioned that you're currently opening the first demo plant for your insect bio-refinery. What's the situation about it right now?
We are currently building the first YnFarm platform in Jura area, France. This first industrial proof-of-concept should show that we can raise insects at a very large scale and with high quality standards, and we can also sell these products on the market, being first Pet Food from insect in Europe.
This step should pave the way of our international development. We also have a Singaporean investment company in our capital and board, which is currently helping us in the building of our network in South East Asia. We aim at building our first commercial YnFarm platforms in Asia, North America and Europe by 2017-2018. The potential markets for insect products in feed, food and chemicals are just "unlimited" and represent several billion dollars!