Wilex is selling Telix Pharmaceuticals its radiolabeled antibody for cancer applications, Redectane, to focus on the development of ADCs instead.
The Australian Telix Pharmaceuticals has closed a license agreement with Wilex, in Germany, for the worldwide rights to Redectane, an antibody with diagnostic applications in renal cancer. The antibody, Rencarex (girentuximab), which binds to the CAIX antigen on clear cell renal cell carcinoma (ccRCC), is labeled for tumor imaging with PET.
Wilex will receive up to €3.5M ($3.7M) in upfront and milestone payments plus royalties on sales. For its part, Telix will manufacture the conjugated antibody, which recently completed a Phase III trial. In addition, the Australian company will initiate the development of new cancer treatment by linking girentuximab to therapeutic radiolabels.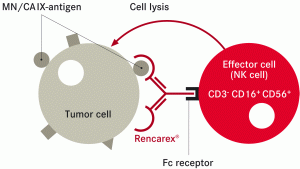 Radiolabeled antibodies are useful tools, but Wilex seems more interested in developing antibody drug conjugates (ADCs). According to CEO and CFO Jan Schmidt-Brand, this agreement is part of Wilex' strategy to focus in its proprietary Antibody Targeted Amanitin Conjugate (ATAC) technology. Amanitin is a highly toxic peptide that, selectively delivered to tumors, could kill cancer cells without affecting healthy ones.
For its part, Telix has expertise in both radiochemistry and biologicals and seems confident in the possibilities of its new antibody, making the deal a perfect fit for both teams. Other companies with such expertise, working in the therapeutic radiolabeled antibody space, include Nordic Nanovector in Norway and Strategia Therapeutics in the US. However, most published research regarding radiolabeled antibodies for cancer diagnostics seems to be in an early stage, which could make Telix one of the firsts to commercialize the technology.
Antibodies are definitely a good bid for the development of therapeutic treatments: 50% of the top 10 selling biologicals are antibodies. New technology combining their high selectivity with diagnostic or therapeutic molecules will definitely become a big deal in the next few years.
---
Images from Andrea Izzotti/Shutterstock, Wilex