Gilead's CAR-T cell therapy Yescarta has been approved by the FDA, making it the first competitor for Novartis' CAR-T Kymriah. 
Yescarta (axicabtagene ciloleucel, or axi-cel for short) has become the second CAR-T therapy to be approved in the US. The FDA has authorized its use to treat aggressive B-cell non-Hodgkin lymphoma in patients for whom at least two other types of treatments for their blood cancer failed.
Developed by US biotech Kite Pharma, Yescarta now belongs to Gilead, which acquired the biotech merely six weeks before the approval for a massive €10Bn. This makes Gilead the second to enter a whole new cancer market, right after Novartis, the developer of the first CAR-T therapy, Kymriah.
Although the specific blood cancer indications for both treatments are different — Kymriah is approved for B-cell acute lymphoblastic leukemia (ALL) — both companies are exploring to expand their use, which could put them in direct competition soon. So, how do they compare?
The approval of Yescarta is based on clinical trial results that are impressive considering the treatment is given to patients who don't respond to standard cancer treatments. After a single infusion, 72% of the patients responded to the therapy, and 51% showed complete remission of cancer. However, there were three deaths due to side effects related to the treatment.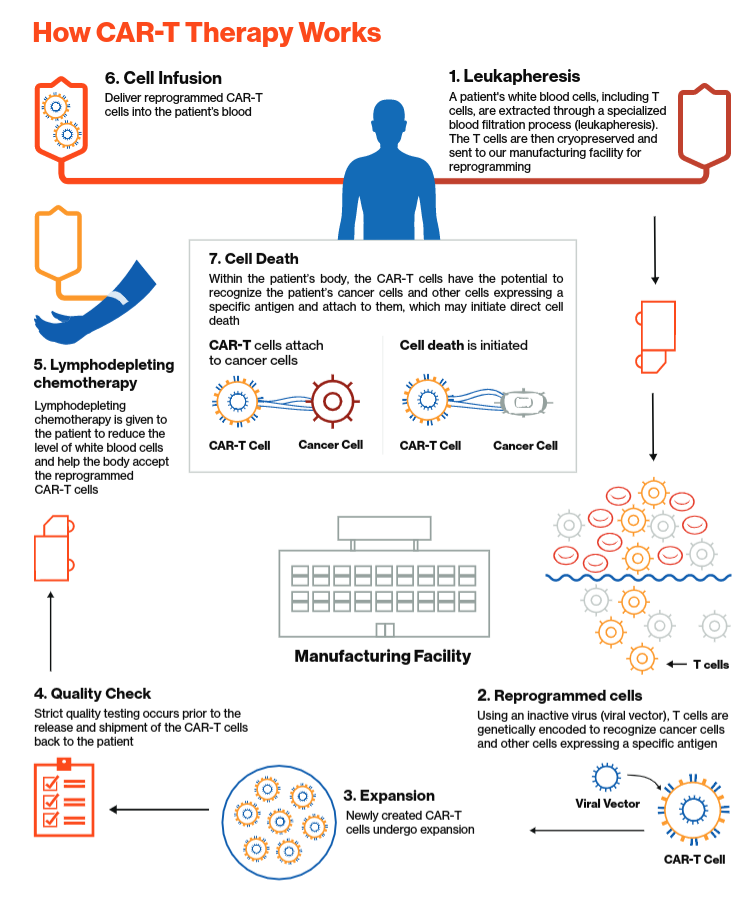 Kymriah was also approved after releasing impressive clinical results. The therapy achieved complete remission in 83% of patients with B-cell ALL. And, though 49% of them suffered strong cytokine release syndrome (CRS) as a side effect, no one died so far.
In terms of pricing, Gilead has listed Yescarta at $373,000 (€316,000). Though extremely high, the price is still $102,000 (€86,000) cheaper than Kymriah. However, Novartis only charges those patients that respond to the cell therapy in the first month.
The pricing of CAR-T therapies has actually been a matter of heated debate over the last few months. Experts warn that the total costs of these treatments are actually way higher, reaching €1.3 million per patient when taking into account the need for hospitalization and intensive care for the therapy's severe side effects.
However, a series of companies are already working on a new version of the therapy that could significantly reduce its costs. The French biotech Cellectis is pioneering the development of an allogeneic CAR-T therapy where the cells are derived from a donor and do not require an individualized manufacturing process. Celyad, in Belgium, is closely following with another allogeneic candidate.
For more info on CAR-T and the state of the field, read our review.
---
Images via Meletios Verras /Shutterstock; Novartis