The biggest city in Switzerland, Zurich, is one of Europe's top financial centers and home to the SIX Swiss Exchange (SWX). It's also one of the most expensive cities in Europe to live in (as my Swiss colleague Claire could confirm). With so much money nearby, how does the local Biotech ecosystem looks like?
The biggest Biotech/mid-size Pharma in the area is Octopharma. Founded in 1983 and located Southwest of Zurich (on the other side of the Lake of Zurich), its human protein business generated €1.5Bn revenues in 2015 – talk about profitable.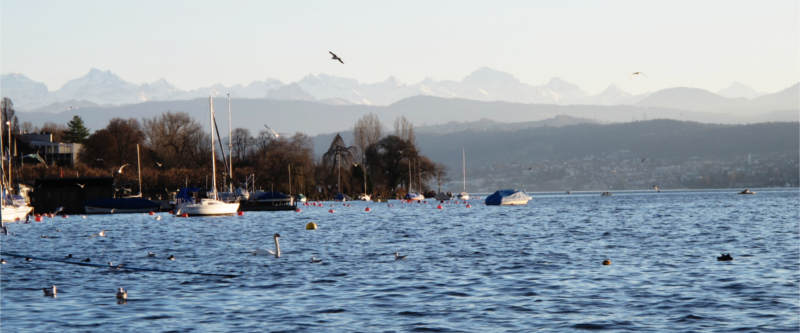 Part of the history of Zurich's Biotech ecosystem is marked by two particular acquisitions. Covagen and its multi-specific antibodies were acquired by Janssen in 2014. GlycoVaxyn (targeting bacterial infections) was acquired for $190M by GSK in 2015. Both were spin-outs of the Swiss Federal Institute of Technology (ETH Zurich).
Now, here's our list of 9 Biotechs in the Zurich area you should know…
Special thanks to the three Biotech leaders from Switzerland who helped us make this list even better.
---
Molecular Partners is developing a new class of small protein therapies. It has ongoing collaborations with big Pharma like Janssen and Allergan, with payouts that could go up to €1.7Bn. Its current market cap on the SWX is €555M.
Its focus is on designed ankyrin repeat proteins (DARPins), a biologic with high potency and affinity but small size – so having the potential to overcome challenges of current therapies. The most advanced trial is a Phase III for wet macular degeneration (with Allergan), and it should begin a solo Phase II in oncology soon.
---

A worthy contributor to recent developments in neurodegenerative disease, Neurimmune is a private Biotech with a $430M deal with Biogen, a successful US Biotech with a Swiss background.
Neurimmune uses high-throughput analyses of immune responses to disease-related proteins in particularly healthy populations (Reverse Translational Medicine). Its candidate for Alzheimer's is in Phase III trials. The Biotech is also tackling Parkinson's, type 2 Diabetes and several rare diseases.
---

Founded in 2009, Delenex was founded as a spin-out from ESBATech (now a Novartis company). It's privately held and raised a Series A round of CHF 37.6M. It develops antibody therapeutics, including PENTRA Bodies –  small, highly potent and stable antibody fragments that can penetrate tissues.
It focuses on dermatology and oncology, with a Phase II candidate for psoriasis (anti-TNFα) and an anti-VEGF-A candidate for oncology indications in preclinical studies.
---

Focused on novel cancer therapies, Sellas was founded in 2012 and has now 7 clinical programmes. It is developing a vaccine targeting the WT1 antigen, a priority target for cancer immunotherapy. This vaccine is in Phase II for acute myeloid leukemia (AML) and malignant pleural mesothelioma (MPM).
Sellas is also researching in neurological indications. It is developing a novel formulation of Zolpidem for basal ganglia disorders, which play a role in progressive supranuclear palsy (PSP) and potentially Parkinson's.
---

A private Biopharma, G7 Therapeutics is looking into GPCRs for the design of novel medicines. This superfamily of 375 receptors is linked to many diseases, but so far it was hard to study it and use them as drug targets. Its strategy already hooked MorphoSys back in 2015.
G7 aims to develop first-in-class and best-in-class medicines, relying on its technology to stabilize GPCRs (CHESS), followed by fragment screening and map interactions with GPCRs to optimize drugs.
---

Founded in 2011, Numab is developing antibody-based therapeutics with tailored properties (such as half-life). Besides its proprietary pipeline in autoimmune diseases and asthma, it leads antibody discover with Pharma partners – including Sucampo Pharmaceuticals and Intarcia Therapeutics (both US).
Numab counts on its technology of ultra-high throughput to find rare molecules with very good properties, and is then capable to use antibody fragments as 'building blocks' for multi-specific innovative proteins.
---

Memo Therapeutics is a spin-out of ETHZ, and has raised around €2.2M (CHF 2.3M) in its Series A round. It develops recombinant immunoglobulins and human-derived monoclonal antibodies.
Its main asset is the MemoMAB platform, that enables molecular cloning, biobanking and expression-screening of all the antibodies in an organism (antibodyomes, in analogy to genome or microbiome).
---

Founded in 2006, Redbiotec is a private Biopharma that started as a spin-out of ETHZ. In 2015, it sold one of its own spin-outs (Redvax) to Pfizer. It currently has Roche, MSD and GSK as partners.
It is focused on viral vaccines, with its own technology (rePAX) to generate multi-component virus-like particles (VLP). It has programmes to develop therapies for herpes, influenza and cytomegalovirus (CMV) infections.
---

A spin-out of ETHZ, Kuros Biosciences was founded in 2000 and is focused on tissue repair and regeneration. It is listed on the SWX, with a current market cap of €152M (CHF 167M).
Kuros develops surgical sealants, with the leading candidate (KUR-023) in pivotal studies to repair the membrane surrounding the brain (dura). It is also looking into orthobiologics for bone healing, with KUR-111 in Phase II for fractures.
In January it acquired Cytos Biotechnology and its virus-like particles – an intriguing merger, from a portfolio point of view.
---
Zurich's Biotech seems very focused on the development of biologics, particularly novel antibody therapies. A big slice of the companies rely on private investors, and ETH Zürich seems to be behind a big part of the innovation going on in Zurich.
Now, your turn to tell me what you think. Please comment below or reach out to me directly 😉
---
Feature Image Credit: Zurich (CC 3.0 Claire Braun)
---